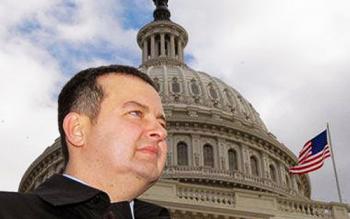 By Milos Mitrovic – Belgrade
The United States supports Serbian integration into European Union, Prime Minister Ivica Dacic said after he had a meeting with U. S. Vice President Joe Biden on Wednesday. The international position of Serbia was significantly strengthened after the Brussels agreement between Belgrade and Pristina had been initialed on April 19th, he added. Serbian PM is in an official visit to US that has been started on Monday.
Dacic stressed that Washington had given Serbia the political support for the implementation of the Brussels agreement. If the implementation process starts on time, the U.S. will influence EU member states to grant the date for the start of the membership negotiations with Serbia, Dacic said. Serbia was hoping that the EU would grant the date for the start of the negotiations in its summit on June 28th.
The implementation of the agreement about the normalization of relations between Belgrade and Pristina is the main precondition for the start of the negotiations.
The implementation of the agreement will be the main issue at the meeting of the representatives of Belgrade and Pristina that is to be held in Brussels on May 21st, Dacic said. Dacic confirmed that he would take part at the meeting.  However, he stressed that the issues that were not a part of the agreement that had been reached on April 19th must not be on the meeting's agenda.
Joe Biden`s Office stated in its press release that "The Vice President congratulated Prime Minister Dacic on reaching an initial agreement in the EU-facilitated Dialogue to normalize Serbia's relationship with Kosovo. "This agreement holds the promise of advancing the European aspirations of both countries and securing a peaceful and prosperous future for their citizens… The Vice President underscored the importance of Serbia and Kosovo moving forward expeditiously to meet their Dialogue commitments and to implement the agreement in full", the statement says.
"I am very glad that Mr Biden has said that he could not imagine Europe without Serbia", Dacic said. According to Serbian PM, American Vice President said that European integration of Serbia was the interest of the EU in terms of its policy and security.