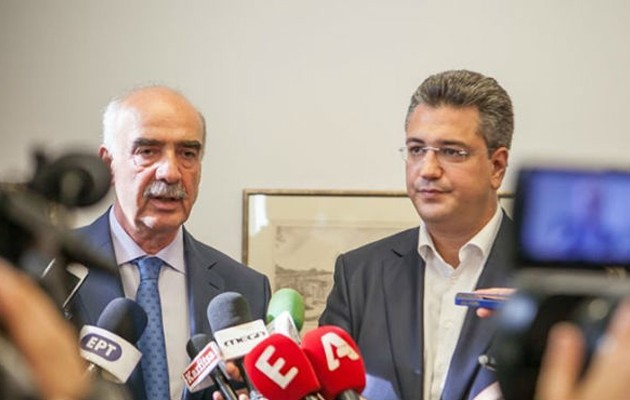 Athens, October 26, 2015/Independent Balkan News Agency
By Spiros Sideris
The intraparty disputes are heating up in New Democracy as party elections draw near. Apostle Tzitzikostas accused Vangelis Meimarakis for playing "political games".
It all started by Apostle Tzitzikostas who unleashed an attack against Evangelos Meimarakis, calling a "pretext" the interim president's invitation at the EPP congress.
"During the time the three candidates for the leadership of the party were at the congress of the European People's Party, there wasn't even one joint photograph. I did not even meet Mr. Meimarakis", Tzitzikostas said, adding that "I only heard him speak".
"While the party had chosen another person to the vice-presidency of the EPP, Kyriakos Mitsotakis, another person arose, that of Dora Bakoyannis. I personally think that this came to be from an agreement, like the ones that were customary used to take place in ND behind closed doors", he said, while when asked to clarify whether he means an agreement Bakoyannis-Meimarakis "behind closed doors", Tzitzikostas replied "of course", while to the question what was the reason for that, he said "the intraparty elections".
Tzitzikostas also referred to the stormy meeting of the Central Election Committee of the party a few days ago, speaking of a "theatrical performance" by Evangelos Meimarakis and "tricks of the old political system".
On behalf of Meimarakis replied to Tzitzikostas his associate Theodoros Abatzoglou, who stated at Real Fm that "we didn't go to the EPP congress in Madrid for photographs and public relations" and added, "our participation had another purpose. It was not to export our party issues to Madrid".
The polarization change between the two is not surprising as Vangelis Meimarakis and Apostolos Tzitzikostas are the two candidates that are leading the race for internal party elections in the polls. A new poll of Alco for the succession race in New Democracy shows Meimarakis first, while it makes it clear that the election will be decided in the second round where the interim president will be pitted against Apostle Tzitzikostas.