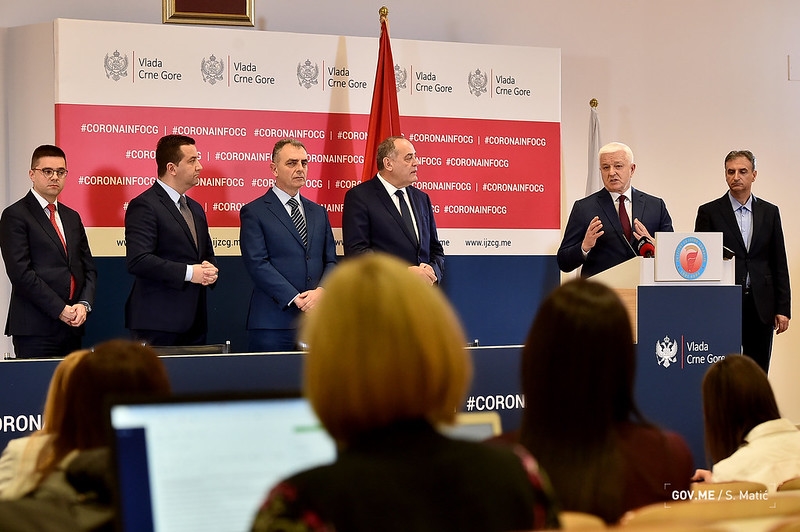 Two women are the first recorded cases with coronavirus infection in Montenegro, Montenegrin Prime Minister Duško Marković announced on Tuesday night.
Montenegro is the last European country to record a coronavirus infection. Both patients, who had travelled in high-risk areas, are now hospitalized and in good condition.
Marković said that the Clinical Centre of Montenegro has adequate facilities, equipment and highly trained teams to provide appropriate and separate care to diseased patients, while fully protecting other patients and its employees.
"In addition, the Institute of Public Health has already begun implementing measures to limit the spread of the virus, as well as identifying all the people the two women have come in contact with during the period of their infection, in order to determine the potential exposure of others and their isolation. All suspicious cases will be promptly adequately handled, quarantined, to minimise the risk of the virus spreading", the Montenegrin Prime Minister stated.
Marković said that at this moment, a new phase in tackling this health and social challenge is beginning for the country.
"It is clear that the first case, or cases of new coronavirus disease, were not unexpected, and it is very likely that new cases will be detected in the coming period, given the epidemiological characteristics of the virus. However, there is no room for panic or unreasonable and uncontrollable concern!", he pointed out.
Marković recalled that in recent weeks our country has taken a number of measures and activities, aimed at preventing the introduction of coronavirus into Montenegro.
"To this day, we have successfully resisted, almost three months after the first case detected in Europe. This clearly confirms that the whole health system, and with it the entire country, has been preparing for such a scenario for weeks, in line with the guidelines of the World Health Organisation and the European Centre for Disease Prevention and Control. It is the result of the effort of all of us: the National Coordinating Body for Communicable Diseases, which analysed, monitored and undertook numerous activities around the clock; hardworking, professional and dedicated people in our institutions, who day by day responsibly implemented and supervised the measures; the media – with which we partner function in an effort to provide timely and objective information to citizens. They were all with us together – they remain one team", Montenegro's Prime Minister noted.
At a press conference on Tuesday late evening, Marković particularly highlighted the role of citizens, who, as he said, showed awareness and discipline in already demanding conditions.
"Therefore, I am grateful to them," Marković stated.
He noted that the country faces a new, more demanding phase, in which everyone must do everything to prevent the uncontrolled spread of the virus.
"So, we need even stronger discipline, even greater responsibility, even more solidarity, so that we can all adapt to the new and more complex conditions", Marković stressed./ibna