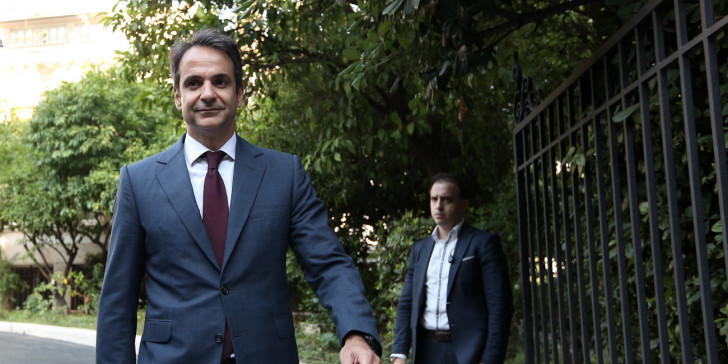 After the first cabinet meeting, Prime Minister Kyriakos Mitsotakis began a round of meetings with his ministers at the Maximos Mansion and tomorrow morning (Friday) he will start visiting the ministries.
The first ministry to visit as a symbolic action is the Ministry of Education on Friday morning and the afternoon of the same day the Ministry of Digital Governance. In the meantime, the lethal bad weather in Chalkidiki sparked off as a first test that the government passed through with a good degree. Its response was immediate and as far as possible effective, while communication management was satisfactory. It was limited to what was necessary, and the competent minister did not fail to point out that "operational readiness is what's important, not the communication show".
From the first meeting, each minister received the dossier on the main issues, and the priorities are being discussed at the meetings with the prime minister, focusing on the end of the year. At the same time, the presidency of the government is being set up which, by utilizing the electronic system for assisting and monitoring government work by sector, is expected to develop into a supervisor of the governmental scheme that will take out the "red flags" when planned actions are not observed.
Kyriakos Mitsotakis, however, has created a two-speed government scheme. At one speed, most of the ministers are politicians from the party's parliamentary group, with a few modernist from PASOK-Chryssohoides, Mendoni, Pierrakakos, something that the party base did not see with good taste.
At the second speed, the Deputy Ministers, and especially the technocrats who come from the market, are all personal choices of Kyriakos Mitsotakis – without political credentials – and intended to run the economic projects, from "Elliniko" to the privatizations. In any case, they are people with experience in the private sector and with different perceptions of management, as well as the economic benefits of political actions. Deputy ministers will be referred to the presidency of the government and will have the right to draft bills, even if this means bypassing their political leaders. Besides, as personal acquaintances they speak directly with the Prime Minister.
How his experienced ministers will take to this, and whether this two-gear scheme will work, is an open question and not a given, as this is the first time something like this is attempted./ibna