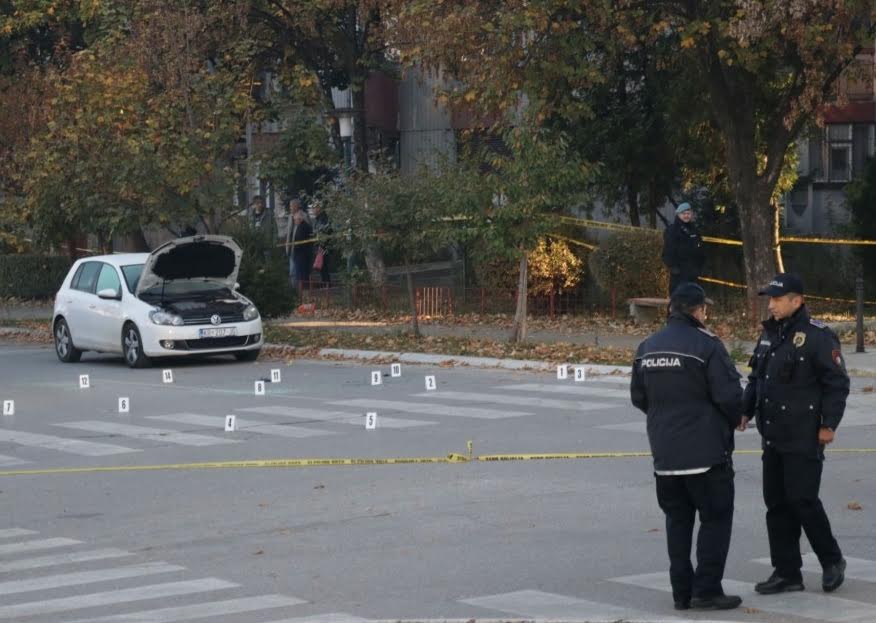 Bosnia and Herzegovina is in shock as two police officers on duty were murdered at a deadly incident on early Friday morning in the capital Sarajevo.
The killing occurred in the Alipašino Polje settlement, at about 04.00 a.m. local, when the Sarajevo Canton police officers Adis Šehović and Davor Vujinović arrived on the spot.
According to unofficial information, an unidentified assailant (probably with accomplices) unexpectedly opened fire with an automatic rifle while Šehović and Vujinović were still inside the police vehicle so they got no chance to protect themselves and fire back. Šehović was immediately killed while Vujinović sustained deadly injuries. He died several hours later at a Sarajevo hospital.
A few hours earlier, a police patrol in Sarajevo downtown stopped thieves from stealing a car. After having escaped, perpetrators later made another effort to steal a different vehicle when Šehović and Vujinović arrived in order to intervene and push them back. After the shooting, the criminals escaped empty-handed.
Police has raised the level of emergency and has informed the Ministry of Interior of Republika Srpska, too, about the incident, as the murder took place near the Inter-Entity Boundary Line.
BiH Border Police has also been informed accordingly with its forces ready to intervene in case shooters try to cross the border. As well, State Investigation and Protection Agency (SIPA) and several other police agencies are taking part in the operation.
Adem Zolj, Sarajevo Canton PM, said that this was an attack against the state.
"This was a heinous crime because police officers had not even left the car, nor had they used their weapons; they had not been warned; officers were shot while their car was still moving", Zolj said to the media.
Sarajevo Canton Minister of Interior, Vedran Mulabdić said he hopes the perpetrators will be found fast, will face trial and get punished.
"A father, brother and son are irreplaceable and we will do everything in our power for the families to try ease their pain", he said.
Cantonal Police Commissioner, Mevludin Halilović, said that this incident represents a "continuation of aggressive behaviour of criminal groups toward police officers".
Sarajevo's Mayor, Abdulah Skaka expressed his condolences to the families and called on police and prosecution to do their utmost to find and punish killers, noting that "nothing is more important than the lives of our citizens."
"These criminals never gave our police officers a chance. The officers had not even turned their siren on, not to mention they had no time to grab their firearms and they had already been hit by bullets", Skaka said adding that only justice can provide permanent security to the citizens.
This is not the first case in which police officers on duty get killed in BiH. The most brutal attacks have have taken place in Bugojno, in June 2010, and in Zvornik, in April 2015. Both of them have been recorded as terrorist attacks….. / IBNA