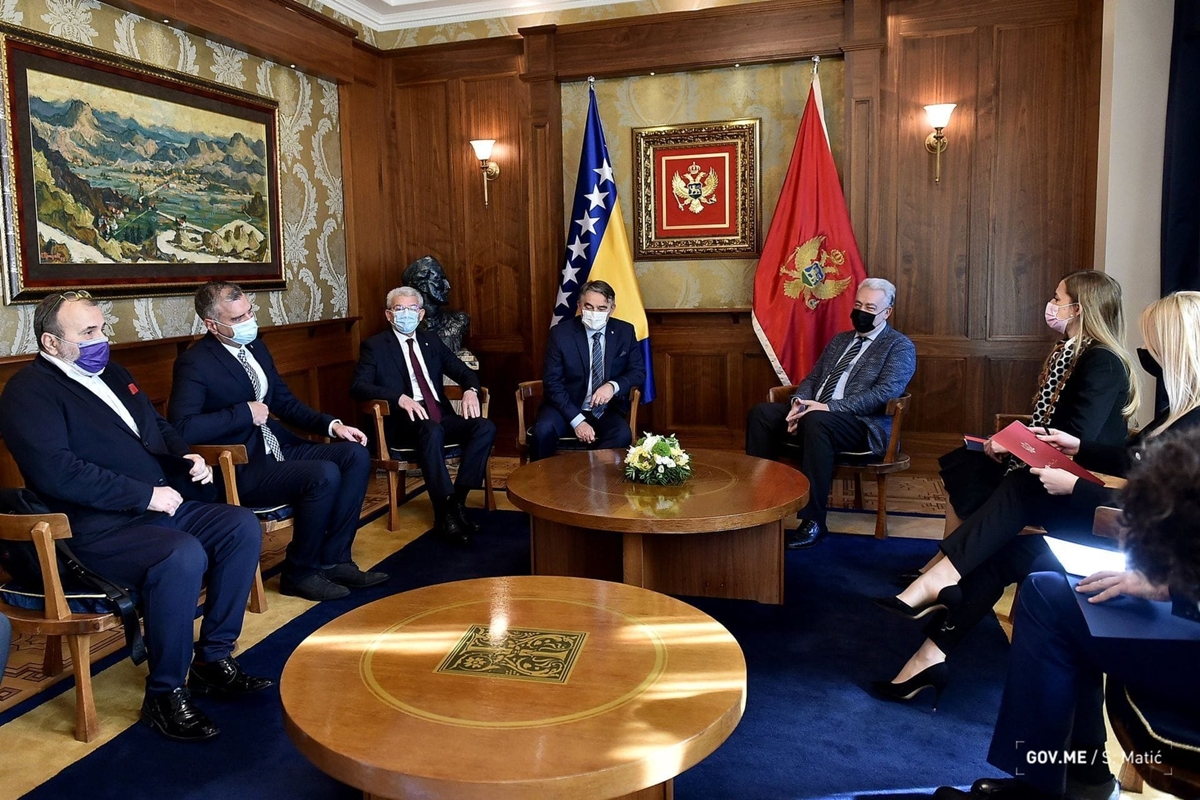 For a second time in just a few weeks, Bosniak and Croat members of the BiH Presidency, Šefik Džaferović and Željko Komšić met Montenegro PM Zdravko Krivokapić, but this time in Podgorica.
Komšić and Džaferović arrived on Thursday evening in Montenegro capital where they had the dinner with President Milo Đukanović. On Friday official meeting with Đukanović took a place and then the meeting with PM Krivokapić. Not as a surprise, Serb member and BH Presidency Chairman, Milorad Dodik, did not come with his colleagues but there was no official explanation. Seems that bad relations between Dodik and Đukanović were the reason for his absence. Komšić said that "Dodik was punished by himself with some statements and behaviour in past years".
After meeting, Krivokapić said that relations between the two countries are friendly and that they have excellent cooperation, adding that the Border Agreement, which BiH signed and ratified with Montenegro, speaks in favour of such a statement.
"The Prime Minister pointed out that a stable and secure region is a precondition for the prosperity of all countries in it, and that good neighbourly relations and European integration are key to economic and infrastructural development," reads the government press release.
Krivokapić emphasised that he was satisfied with the results achieved by the Government.
"There is no better recipe for Montenegro at the moment. It is a meritocratic government. We are trying to transform Montenegro. The most important thing is for Montenegro to become and survive as a civil state," Krivokapić said.
He emphasised that there is mutual interest in strengthening cooperation in the field of tourism, in order to create conditions for the better and more successful offer of both countries, and that this season he expects an inflow of 65% of income achieved in the 2019 summer season.
"Our plan is to have a project of the main road Sarajevo – Šćepan Polje, to Plužine, ready by the end of the current year. Such a project would be the best proof of our good neighbourliness, friendship and intention to make life more pleasant and richer for the citizens of our countries and the region," Krivokapić said.
BiH Presidency Member Željko Komšić expressed satisfaction with the extremely dynamic diplomatic cooperation with the new Montenegrin administration and stressed that the current cooperation between BiH and Montenegro is a good example for the entire region. "The existing agreement on the common border is just a confirmation of the friendly and partnership bilateral relations. We want to improve that relationship. It is in our interest to have a neighbour who is stable and to follow your example on the path to European integration," Komšić said.
Speaking about the project of the main road Šćepan Polje – Foča, Komšić said that it was a long-standing mutual need and desire. "That project will have our support. BiH is interested in implementing this project. Count on us as friends and we are at your disposal for all consultations and conversations," Komšić said and wished Montenegro a successful tourist season.
Džaferović also expressed satisfaction with the dynamic partnership and good neighbourly relations between the two countries.
"We waited for the epidemiological situation to stabilise before we came to visit. We care about good relations with Montenegro. Stable Montenegro is important to us, Montenegro is on the European path, Montenegro is a NATO member," Džaferović said.
Džaferović pointed out that cooperation needs to be improved. "There are many reasons to cooperate in the field of tourism, energy, agriculture, transport infrastructure, strengthening industrial production. I think that it has been neglected in all countries of the former Yugoslavia," Džaferović concluded.