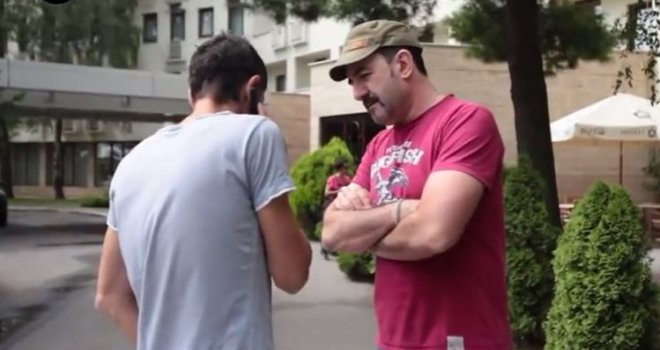 Sarajevo, October 7, 2016/Independent Balkan News Agency
By Mladen Dragojlovic
In the last few days, the BiH Prosecutor's Office, the Task force for the fight against terrorism in State investigation and protection agency (SIPA) and BiH Border Police conducted several investigative and search actions, based on the video story of Italian TV journalist, Luigi Pelazza who pointed out on the alleged illegal purchase of weapons for ISIL in BiH, announced the State Prosecution Office.
SIPA inspectors and officers identified the persons who appear in the video and found that they are not arms dealers, but people whom the Italian journalist, for the needs of the video story, gave money to act in the faked tv scene.
"People who have appeared in the video are people in difficult financial situation and registered drug addicts. They were being questioned in the official premises where they admitted that they are persons in the video, and described the whole event", stated the Prosecutor's office.
During the investigation officers determined and identified the weapon in video, and conducted activities to find the remaining pieces of weapons left over from the last war who were part of these activities.
"Considering that the story harmed the reputation of BiH in the fight against terrorism, all the competent authorities of the Republic of Italy are informed about this case in order to take further action", says the announcement.
But, during the day at Friday, Pelazza gave the statement to local media saying that allegations about fraud are not correct and that he didn't pay anybody to act the role of weapons dealer.
"When you do a story of this kind, it is not only my reputation on the line, but also the reputation of an entire television show. Do you understand?! So there are absolutely no errors, but more importantly, we have no reason to fake anything", Pelazza said.
He added that he is ready to come to BiH and deliver the entire recording to authorities responsible for investigation. Pelazza said that, on the BiH authorities request he delivered the raw material.
"Everything is recorded in the presence of those persons. Remember that we are a television show that exists for 20 years and never even dreamed of faking something because there is no need. Every time someone is caught and accuse us that we bribed somebody to make fake situation, we send the raw material from which is obvious what is happening here", Pelazza stated.
Pelazza confirmed that in 2010  he had a similar problem with a story in Peru, as evidenced by the report of the local police station in Italy. Pelazza had been accused in that case of paying more people to pretend that they are gang members dealing with drug trafficking, kidnapping, murder, etc.
Pelazza explained that all the raw footage was handed over to the Italian and Peruvian police. After the investigation was conducted the charges against him were dropped.