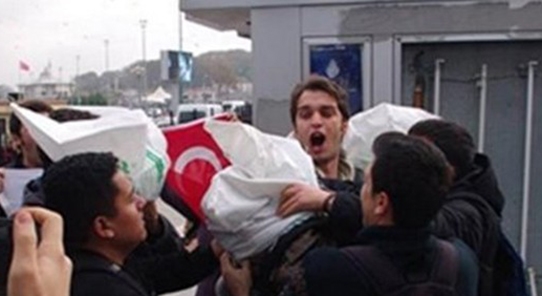 They put bags over their heads
By Manolis Kostidis – Athens
American sailors were attacked in the port of Eminönü in Istanbul when Turkish nationalists protesting against the US closed down on them, overpowered them, threw red paint at them and tried to put bags over their heads. Turkish police arrested 12 protesters, while the US embassy in Ankara condemned the incident.
The Americans were returning from the NATO exercise in the Black Sea and their ship the USS ROSS was anchored in Istanbul.
Turkish nationalists, who are members of the "Union of Turkish Youth", were waiting for them on the streets since early morning and chanted slogans against the US until they saw the Americans, who had not realized what was happening.
In 2003, American commandos had invaded in an outpost of the Turkish special forces in northern Iraq and had captured 11 Turkish commandos and then placed bags over their heads. There was information that the Turks carried weapons to the Turkmen in North Iraq. The way the Turkish soldiers were tied up had been considered degrading.
The Nationalist protesters of Istanbul argue that in this way they "exacted their revenge".