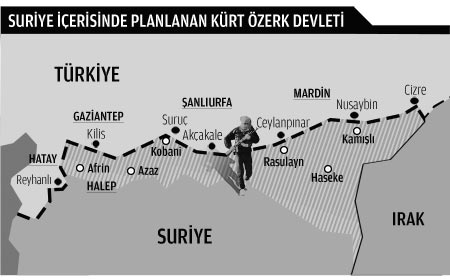 By Manolis Kostidis – Ankara
Ankara is very concerned at the possibility of an autonomous Kurdish state being directly proclaimed in northern Syria. PYD rebels (offshoot of the PKK in Syria) occupied the town of Ras al-Ein, the final stronghold of Syrian opposition in northern Syria. Kurds now are in complete control of the entire northern part of the country.
This particular town is situated just beside the border with Turkey. A few days ago, the Federation of Turkish Organizations (KCK) had said it was preparing to "declare an autonomous Kurdish region in northern Syria".
Zaman daily says "in this way the Kurdish plan for a Kurdistan of four regions is proceeding", meaning the areas populated by Kurds in northern Iraq, Syria, Iran and Turkey!
Upheaval was caused in Ankara as the overthrow of Asad whom the Turkish government strongly supported, has become a boomerang now that a second autonomous Kurdish area is being created right next to Kurdish populated southeastern Turkey. This raises fears because it provides an example of autonomy to Kurdish population.
Sources say Kurdish rebels have occupied areas with many oil wells.
On Thursday, Turkish President Abdullah Gul held a meeting with Prime Minister Recep Tayyip Erdogan and the Armed Forces Chief to discuss developments in the region and to determine Turkey's response.
Ahmet Davutoglu had stated that "if the PKK gained sovereignty of even a small area, even a village, we would consider this a risk factor as it promotes terrorism. We will not allow the formation of terrorist pockets near our borders".
The headline of Turkish newspaper Vatan reads: "Alarm at the border" as the paper reports the Turkish army is gathering forces at the border with Syria since "norther Syria is controlled by the PYD". The same paper also says Turkish fighter planes are flying at low altitude to threaten the Kurds.
Τürkiye newspaper is headlined "Autonomy alarm".