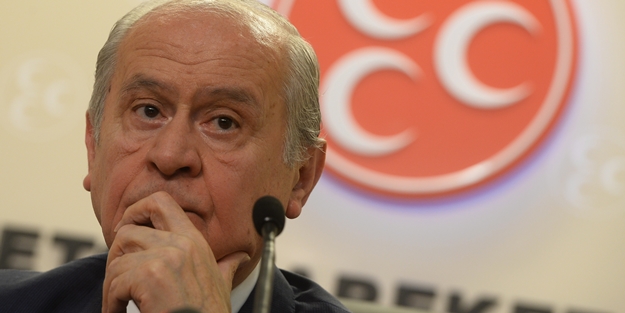 The Turkish state is "deadlocked" and "on the verge of crisis," Nationalist Movement Party (MHP) leader Devlet Bahçeli has said, in response to criticism over his suggestion that the government's constitutional changes, which include a shift to a presidential system, should be brought to a public vote.
"Turkey is drifting in the flow. I said we should stop the flood and build a dam if necessary. But they responded by asking if our vote will be 'yes' or 'no' [in the parliamentary vote on constitutional changes]," Bahçeli said via his Twitter account.
"I warned that the state is deadlocked, the system is locked, and the regime is on the verge of a crisis. But they didn't hear and instead questioned what we will do in parliament," he added.
Slamming criticism of his perceived support of a shift to a presidential system, Bahçeli said he had been "misunderstood." He said discussing the MHP's motivation in bringing up the debate on the presidential system is "misleading" and it obscured his "genuine criticism" of President Recep Tayyip Erdoğan.
"There is currently a de facto imposition [in Turkish politics] and I am concerned that this could be the final stage of destruction. But they question whether we will vote 'yes' or 'no' in the referendum," he added, referring to Erdoğan's current de facto use of executive presidential powers.
"I said the nation is short of breath, and the Turkish state's road with the law has been bifurcated. But they didn't even hear. I said we should think about the future and secure a future for the next generations. I said we should compromise and discuss it and take it to the public if necessary. But they were displeased and turned their backs on us," the MHP head said.
On Oct. 11, Bahçeli proposed bringing a discussion regarding the parliamentary system to a public vote, after criticizing Erdoğan for breaching the constitution by creating a "de facto presidential system."
His comments prompted a heated debate as they were interpreted as indirect support for President Erdoğan and the AKP, which have long sought to shift Turkey to a presidential system.
"The constitution is being violated and thus, a crime is being committed. In order to avoid any constitutional breach, Mr. President should stop insisting on a de facto presidential system. If he does not abandon this, the ways and methods to legalize this de facto situation should be sought swiftly," Bahçeli said at the time./IBNA
Source: Hurriyet Daily News