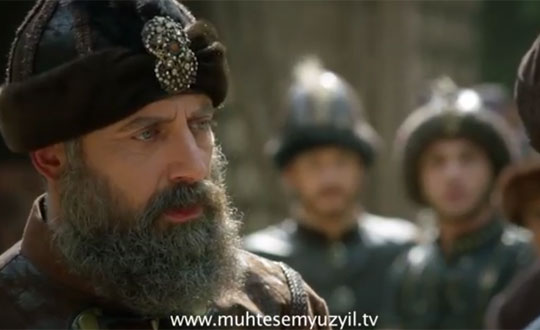 Erdogan's intervention to the scenario of the series
By Manolis Kostidis – Ankara
The turkish series "Magnificent Century" (Muhtesem Yuzyil) continues to record high viewing numbers in Turkey and to start debates regarding the history of the Ottoman empire. The debates increased after the airing of the episode, in which Suleiman has his son and would-be heir to the throne, Mustafa, murdered. It is a historic event in which, according to the television series scenario, the Ottoman sultan is affected by the machinations of his wife Hurrem and his Vizier, Rustem Rasa, who convinced him that his son is plotting to overthrow him.
Immediately after the airing of the episode many unbelievable developments took place. Initially, thousands of Turks rushed to prince Ahmet's grave, in Brusa, to pray.
At the same time, the 47-year-old television viewer, Hasan Kez, from Brusa, filed a lawsuit against Suleiman for Mustafa's assassination. "I came to court for the assassination through strangulation of Suleiman's son, in order to file a lawsuit. I want the reinstatement of prince Mustafa and the removal from Suleiman the Magnificent the status of the Sultan", he stated.
Almost all the turkish newspapers and the television networks devoted space and time respectively to comment on the specific episode. Television panels where organised, in which historians justified Suleiman's action and explained some that the empire's political ideologies, such as the institutionalized practice of fratricide and the murdering of their children.
Other historians disagreed with the way with which the strangulation of prince Mustafa was represented and commented that some of the depicted assassination methods are historically inaccurate.
Erdogan's intervention for Suleiman
In regard to the serie's scenario, even Recep Tayyip Erdogan intervened stating that "we are not the grandchildren of Suleiman the Magnificent who is presented in the television series, but of the real Suleiman. The one who was prepared to sacrifice the whole empire for a healthy breath".
However historic reality cannot be altered and history states that Suleiman had given the order for his son's strangulation.
The airing of the specific episode from the television network Star TV surpassed all viewing records reaching 55%. That is, half of Turkey watched the episode with prince Ahmet's strangulation by Suleiman's order.
The viewing numbers of the series, after the departure of the actress Meltem Uzerli (Hurrem) last June, had dropped to no more than 15%.