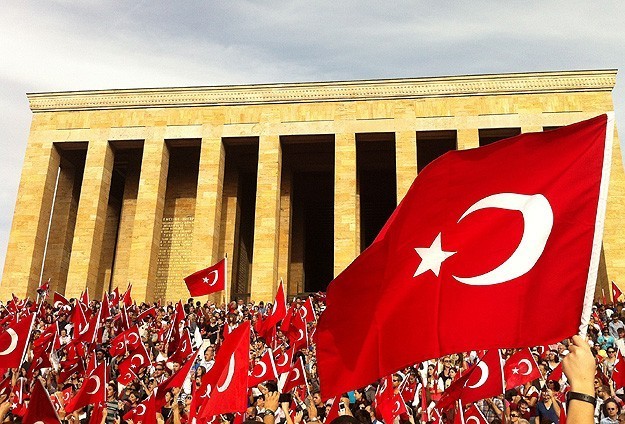 Review by Christos T. Panagopoulos –
The celebration of Turkey's Republic Day began on Tuesday with a ceremony at the Anitkabir mausoleum of founder Mustafa Kemal Ataturk in capital Ankara. After President Abdullah Gul laid a star-and-crescent wreath of red and white carnations on Ataturk's tomb, he stood with other attendees for National Anthem.
"Because of our country's gains as it approaches its centennial anniversary, we are proud of our country for its rise in all fields and its development as a global center", Gul's entry in the special guestbook at Anitkabir said.
The ceremony was attended by numerous other state and military officials including Parliament Speaker Cemil Cicek, Prime Minister Recep Tayyip Erdogan, Constitutional Court President Hasim Kilic, General Staff Chief General Necdet Ozel, and opposition party leaders.
The Republic Day of Turkey on October 29 is the commemoration of the proclamation of the Turkish Republic in 1923. The official recognition of the Turkish Republic took place on October 29, 1923 by Mustafa Kemal Ataturk. On that day, the new name of the nation and its status as a Republic was declared.
After the declaration and a vote in the Grand National Assembly of Turkey, revolutionary statesman and founder of the Turkish Republic Ataturk was unanimously elected as the first president of the Republic of Turkey. Since then, Turkey celebrates its Republic Day every year on October 29.
Source: Anadolu News Agency