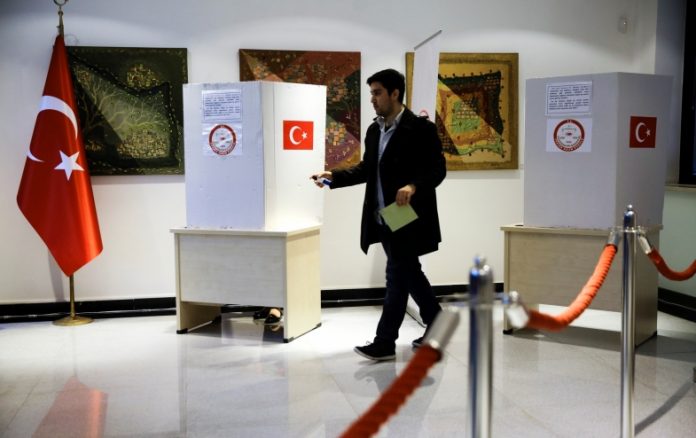 Only a week away from the constitutional referendum to be held in Turkey on Sunday, 16 April 2017 and polls have opened for the 10,000 Turkish citizens living in Greece.
Through the referendum Turkey's President Recep Tayyip Erdoğan is proposing changing the constitution so that Turkey will have an executive presidency, meaning that the president becomes the head of the government and the role of prime minister is scrapped.
Voters both in Turkey and abroad will vote on a set of 18 proposed amendments to the Constitution of Turkey. The amendments have long been suggested by the governing Justice and Development Party (AKP) and its leader, Prime Minister Binali Yıldırım, as well as being agreed to by the opposition Nationalist Movement Party (MHP). The amendments not only include the introduction of an executive presidency and a presidential system they also include  the raising of the number of Parliamentary seats from 550 to 600 and changes in the Supreme Board of Judges and Prosecutors (HSYK).
Polls have opened for the 10,000 Turkish citizens living in Greece with Turkish consulates in Athens, Thessaloniki, Komotini and Rhodes becoming polling stations for Turkish citizens living in Greece who retain the right to vote.
Turkish citizens living abroad have been able to vote in their country of residence since 2014, however participation of Turks in Greece is expected to be fairly low. More specifically, in the elections of 2015 from the 10,487 registered only 5.73% actually voted.
Nevertheless it is particularly interesting to see how this small percentage voted in the last elections two years ago, in contrast to the overall results: The pro-Kurdish left HDP party (Democratic People's Party ) and the social democratic and Kemalist CHP (Republican People's Party) party were a tie with 174 votes which corresponded to 29.39%, while Erdogan's AKP was in third place with 161 votes. We won't know whether the Greek ballot box will eventually be in favour of a "no" based on the above results until after April 16, when the referendum will be held in Turkey.
The electoral process for Turks abroad began on March 27, and it serves about 3 million people of Turkish nationality living in 57 countries in total. Erdogan is aware that if he wants to ensure his victory he needs to gain the favourable vote of the diaspora which represents approximately 5% of the Turkish electorate. In the presidential elections of 2014 Erdogan received 51% of the vote from within Turkey, while the proportion of voters abroad was 65.52%. In the 2015 elections the AKP took almost 50% of the votes (49.88%) from abroad and 40.86% from within Turkey.
Nevertheless two very crucial years have passed since those elections and whether the result of the Turkish referendum can be influenced from the diaspora still remains to be seen./IBNA