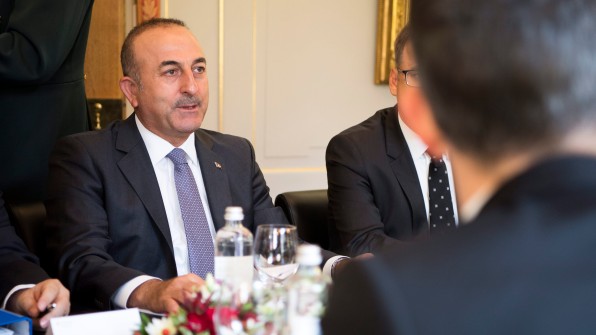 Germany – Turkey ties have soured following a decision by local authorities in the Gaggenau region to cancel the speech of Turkish Minister of Justice Bekir Bozdag. The Turkish Minister was due to speak to the Turks residing in the country on the upcoming referendum and urge them to vote "yes". Bozdag then cancelled a meeting with his German counterpart and returned to Turkey.
Turkish Foreign Minister Mevlut Cavusoglu then accused the so called German "deep state" saying that it was behind this case. "This has become a regular practice of the German state and they exert systematic pressure on the Turkish community in Germany"
Cavusoglu then added "you are not our bosses. Turkey is not a "second class country and we are not always at your disposal," he said.
Angela Merkel made it quite clear, on Friday noon, that decisions concerning rallies are taken by local authorities and not the federal government.
Earlier the Turkish Foreign Ministry sent an official protest from Ankara to the German Ambassador in the Turkish capital.
Meanwhile on Friday morning the German police were forced to evacuate the city hall in Gaggenau after a bomb threat. "We received a phone call about a bomb and those who called us said that motivation for the threat was the cancellation of yesterday's event with the Turkish Minister of Justice," said a local city official.
German Foreign Minister and Vice Chancellor Sigmar Gabriel who has personally dealt with the release of Deniz Yucel without any success, made it clear that the Turkish election campaign in the German cities  must stop.
Despite this, the Turkish Finance Minister Nihat Zeybekci said that on Sunday he will visit Germany to attend an event on the referendum.
Cavusoglu had a telephone conversation with his German counterpart Vice Chancellor Sigmar Gabriel on Friday evening. According to Foreign Ministry sources the two agreed to meet in Germany on March 8 to discuss tensions between the two countries.
German and Turkish political analysts said Erdogan through this tension is rallying the electorate of Germany's Turks in his favour. This will result in the referendum and may be an important political weapon in upcoming elections in Germany.
It is worth noting that about 1.4m Turks living in Germany are eligible to vote in the April referendum./ΙΒΝΑ