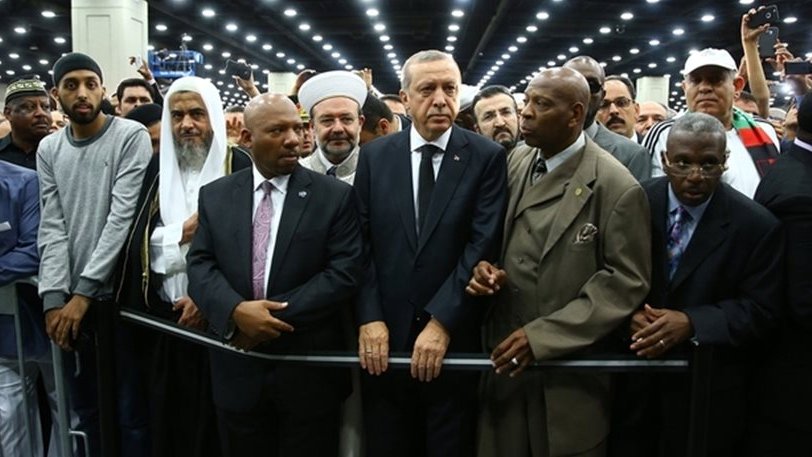 Ankara, June 11, 2016/Independent Balkan News Agency
By Manolis Kostidis
Tension between Turkish and American bodyguards
The President of Turkey discontinued his schedule
Frustrated and after discontinuing his schedule, the president of Turkey Recep Tayyip Erdogan returned from the United States. According to Turkish media, the Turkish president was not at all satisfied with the attitude of the family of the boxer Muhammad Ali, on the first day of the funeral, but was also irritated with the American bodyguards, as well as with the rest of the Muslims of the US.
The Turkish president had traveled with his presidential aircraft to the US for the sole purpose to attend the funeral of Muhammad Ali. Things looked bleak since the beginning, as before his departure from Ankara, Erdogan had expressed his desire to deliver a funeral speech, however, the family of the boxer refused.
In the US, things began to become even more complicated.
Erdogan participated on Thursday in the Muslim prayer for Muhammad Ali and then suddenly decided to hastily depart from the US without attending the interfaith funeral on Friday.
The Turkish president expressed his desire to place in the coffin of the boxer a black cloth decorated with verses from the Koran, but the organizers denied.
Erdogan this time asked to read a prayer from the Koran, but he was denied again.
Within this atmosphere there was bickering between the bodyguards of Erdogan the US police officers, who according to protocol were responsibile for the safety of the Turkish president.
As a result of all these Erdogan became irritated and decided to hurry back to Turkey.
However the journey of the Turkish president in the US for the funeral was criticized by some of the Turkish press. The columnist of Hürriyet, Mehmet Yilmaz, says that "it is the right of the president to attend any funeral he wishes. But he should cover the expenses from his own pocket. In this case he traveled with the presidential aircraft, the fuel of which is a huge expense. Also, the entourage of dozens of people in the US for so many days is an expense that can not be justified".