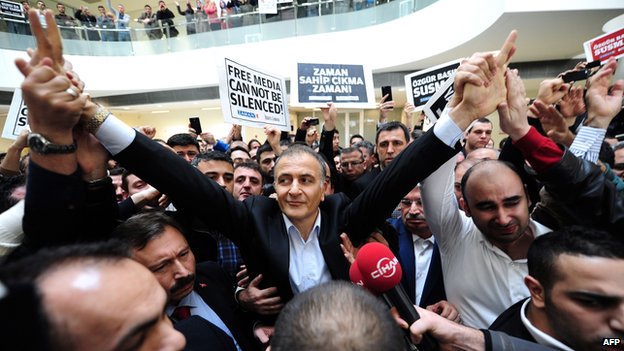 Ankara, December 14, 2014/ Independent Balkan News Agency
Among the arrestees are Mass Media directors affiliated with Gulen
Main Opposition speaks of a coup
By Manolis Kostidis
Turkish Police raided specific locations in 19 cities in a "cleaner" operation. The target of the police were the newspapers and television networks connected to the network of the Islamic movement Hizmet of Fethullah Gulen. Among the arrestees are the director of daily Zaman, the biggest-selling newspaper in Turkey, Ekrem Dumanli, the director of the television network Samanyolu, Hidayet Karaca, and the former commander of the Counter-Terrorism Service Tufan Erguder.
Those detained are accused of forming an illegal organisation and trying to seize control of the state.
Hundreds of people gathered outside these specific Media holding placards and chanting "free press cannot be silenced", as police raided the building.
The leader of the Republican People's Party said that "what we are experiencing are not events that occur in democracies that function properly. It is a coup. …The morning operations that were carried out in newspapers and televisions cannot be accepted".
During the last year Gulen's order is being accused by Erdogan and the Turkish government as a "parallel state", since form December 2013 a war has broken out between the two former allies, due to the uncovering of the cases of kickbacks that were received by prominent members of the AKP. O Erdogan claims that the proof and publications of illegal wiretappings were instigated by the Hizmet movement.
Gulen had achieved significant influence in the judicial and police system over the last years with the support the AKP itself. However, the old alliance between the two sides ended last year and now it takes a new turn with the operations against Gulen's Mass Media.
What's most impressive is that on Wednesday in Twitter a user with the nickname Fuat Avni (the true identity of who is unknown) said in his post that on Friday media executives of the network of Gulen would be taken into custody.
photo: bbc.com