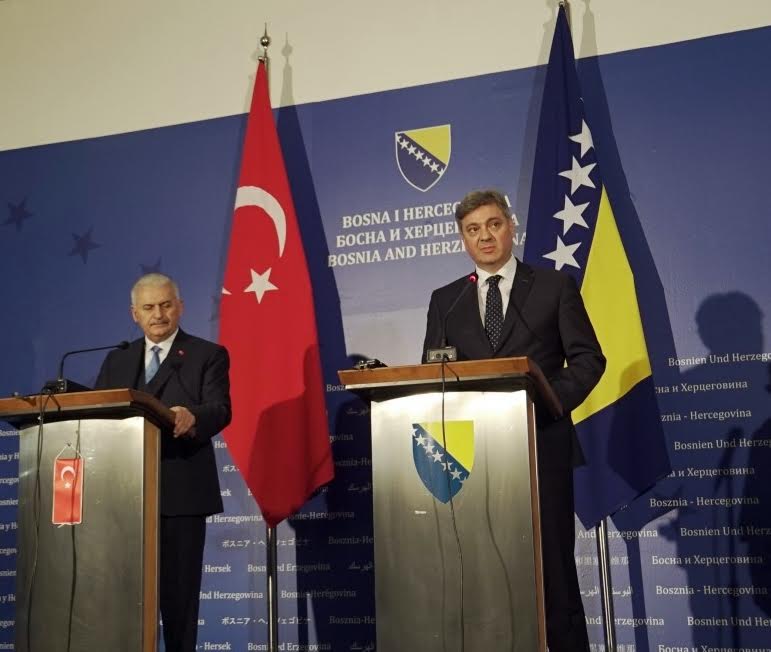 A Turkish government delegation, headed by Prime Minister Binali Yildirim met with the Chairman of the Council of Ministers of BiH Denis Zvizdić on Thursday in Sarajevo, on the first of a two-day visit to the Balkan country.
After the meeting, it was emphasised that co-operation in all areas continues, because Turkey is a true friend of BiH, that never interfered in its internal affairs, but responded positively to all requests for support. In addition, it was announced that the Turkish President, Recep Tayyip Erdogan, will also visit BiH sometime in 2018.
"I informed PM Yildirim about the most important goals and priorities of BiH, and this is primarily the EU and NATO memberships. I asked the premier, if Turkey, that is an important NATO member, continues to support BiH, especially over its demand on the activation of the Action Plan for membership in the NATO pact. Turkey has always been by BiH's side and has strongly supported these two priorities," Zvizdić said.
He added that he informed Yildirim about key development sectors and investment potentials, with a special focus on the sectors of energy, transport, industry, agriculture and tourism. Zvizdić stressed that, during the meeting, it was agreed they should finalise the Free Trade Agreement as soon as possible.
"Turkey has expressed its willingness to guarantee the export of meat from BiH to Turkey for at least five years, which can enable long-term investment plans in the sector. The deadlines for the implementation of Turkey's loans for development projects in the field of agriculture and other projects have been extended. Turkey is among the first ten trading partners of BiH and among the top ten investors, the volume of exchange last year was 1,2 billion BAM (about 600 million Euro), and by the end of this year we expect it to grow to two billion BAM with a special focus on agricultural exports," Zvizdić underlined.
Turkey's PM said that this state supports BiH's entry into NATO, because "both countries know what peace is", and that Turkey will continue to support BiH at all meetings related to NATO membership.
"We also support BiH's membership in the European Union and we will continue doing so. We want to increase the number of Turkish investors in BiH because investments mean new jobs and employment for young people. The overall trade exchange does not reflect our capabilities, we have to make more efforts," Yildirim said to reporters.
He added that the Turkish President, Recep Tayyip Erdogan, will visit BiH in the middle of the year and that 10 agreements will be signed between the two countries at that time.
"This means that the relations between BiH and Turkey will improve and we will succeed in developing better co-operation. An agreement was reached to implement the construction of the Sarajevo-Belgrade road and serious preparations have been made," Yildirim noted.
The Turkish delegation will have several meetings with high-level BiH officials and PM Yildirim will hold a lecture for students of the Sarajevo University…. / IBNA