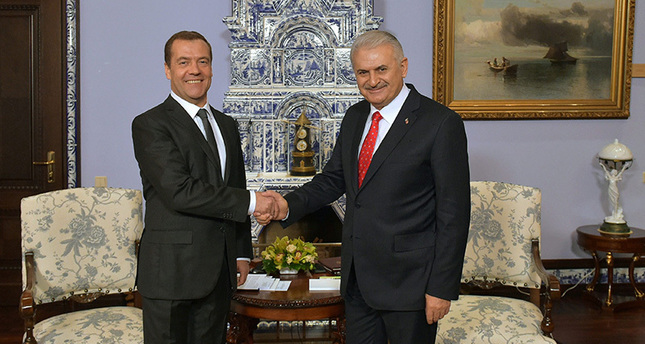 Yildirim met with Putin and Medvedev
Important visit to Moscow had the Prime Minister of Turkey Binali Yıldırım, who met with his Russian counterpart Dmitri Medvedev and President Vladimir Putin.
The main issue of the meeting was the developments in Syria and military action of the two countries in the region. In recent days one could see a kind of dispute regarding the two countries' targets, with Turkish President Erdogan stating that the aim of Turkey is the overthrow of President Assad, which brought the immediate reaction of Moscow.
For this reason, there were three telephone conversations between Putin and Erdoğan. The bombing of the headquarters of Turkish special forces in Syria by a Syrian aircraft was still a point of contention.
After the meeting the climate seemed to improve significantly. Indeed, Russia considers it to be significantly easier for Syrian government forces to take over Aleppo if  Turkey discontinues any help to opposition forces.
After the meetings, Gazprom announced that the construction of the Turkish Stream gas pipeline will begin in the second half of 2017.
At the same time, Rosatom announced that the construction of the Akkuyu nuclear plant will be completed in 2023 with construction works to start in 2017./IBNA