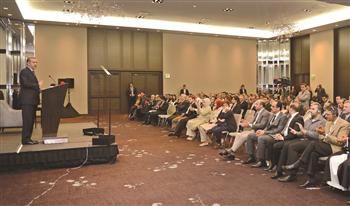 Prime Minister Recep Tayyip Erdoğan once more signaled readiness to bring his party's own draft Constitution to a people's vote in absence of a consensus in Turkey's much-anticipated parliamentary work to write a new Constitution, as he also eagerly insisted on considering a presidential system.
"Openly, I'm also losing my hope. We want the presidential system to be opened to debate," Erdoğan was quoted as saying, while speaking with a group of journalists during an official visit to Washington.
Erdoğan's remarks, published in daily Hürriyet on May 19, came when he was reminded that President Abdullah Gül had recently expressed hopelessness over the Constitution-making process. The prime minister used this question as an opportunity for to criticize the opposition for their firm objection against the ruling Justice and Development Party's (AKP) presidential system proposal.