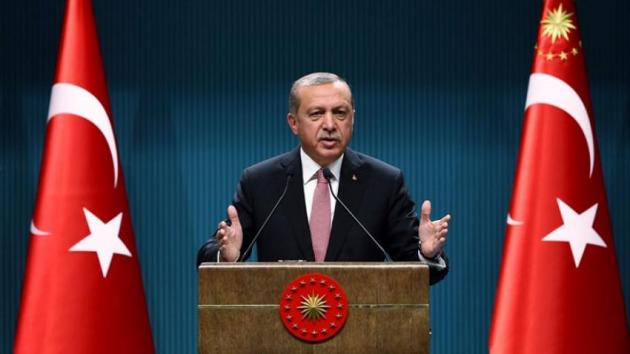 Erdogan to become hyper-President with a referendum in April, with the aim to remain in power until 2032!
The President will have the authority to appoint General Secretaries, Police Chiefs, Judges   
Turkey is heading towards a referendum that would allow the Constitutional reform to take place, handing over to the President of the country Recep Tayyip Erdogan enlarged executive superpowers and prolonging his term for at least 15 years, provided he gets elected!
The Turkish Parliament approved the key points of the constitutional reform with the votes of the MPs of the ruling Justice and Development Party (AKP) and the Nationalist Action Party (MIP). The motions passed with 344 votes in favor and 131 against.
Erdogan, who has been in power for 14 years, claims that this reform is needed to prevent the return of the country to the fragile coalition governments of the past. The opposition accuses him that the totality of the reform is tailored for Erdogan, who plans to concentrate all the power in his hands and extend his presidency until 2032!
These reforms should pass from two more rounds of voting before going to a referendum, which according to the deputy chairman of the Turkish government, may be held as soon as April 2.
The broad executive powers Erdogan eyes
With the reform promoted by Erdogan the executive power is entrusted to the president, who will be allowed to maintain his status as leader or member of a party.
Meanwhile, the office of the Prime Minister is being repealed. The cabinet is likewise being repealed as a constitutional established instrument. The President, that is Erdogan, will have the power to appoint and dismiss the vice-presidents and ministers! Erdogan will be responsible to issue decrees on matters of executive power, without the Parliament's involvement. He will also be able to change the structure of all ministries and public services, based solely on his judgment. The President shall determine by decree the appointment criteria for senior civil servants and will appoint 6 of the 12 members of the Supreme Council of Judges and Prosecutors. Members of the supreme courts will appoint 4 more, while the remaining 4 will be appointed by the Parliament. As a result the judicial power will be controlled directly by the President.
The President acts will not be controlled by the Parliament. The only possibility is the referral of the President to the Supreme Special Court. For this to happen, three fifths of the total number of MPs must be vote in favour.
The president could dissolve the Parliament at any time. He can remain in power for up to two consecutive terms. However, the revision provides that if during his second term he calls for election he may be re-elected for a third time. So in theory Erdogan could remain in power even after 2029!/IBNA