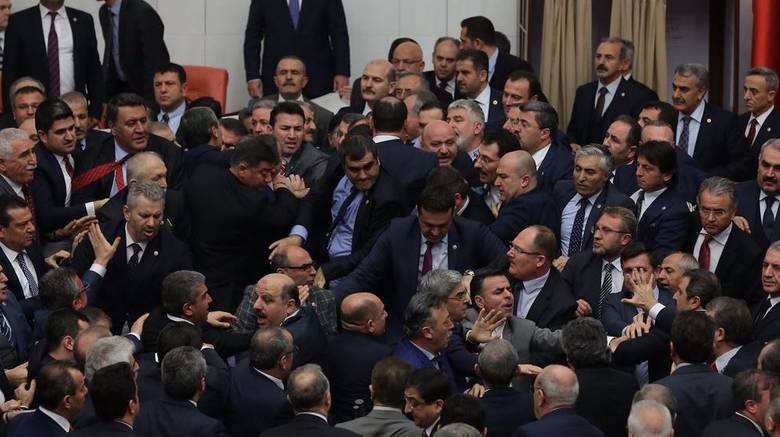 Turkish lawmakers came to blows in a brawl in parliament overnight, as tempers boiled over in a debate on an 18-article constitutional amendment package to shift the current parliamentary system to an executive presidency.
MPs from the ruling Justice and Development Party (AKP) and main opposition Republican People's Party (CHP) threw punches and shoved one another as they crowded around the assembly's podium.
During the row, CHP deputies objected to AKP members casting votes without entering the cabins set up to ease what was a secret ballot. AKP lawmakers then tried to grab the mobile telephone of a CHP deputy filming the scene.
Despite the clash, the third, fourth and fifth articles of the bill were approved in the parliamentary session, which continued until early on Jan. 12. Debate was scheduled to resume on Jan. 12 afternoon.
The bill needs the support of at least 330 deputies in the 550-seat assembly to go to a referendum, expected in the spring. The AKP has 316 deputies eligible to vote and the MHP 39.
The three articles were passed with between 341 and 343 votes in favor./IBNA
Source: Hurriyet Daily News