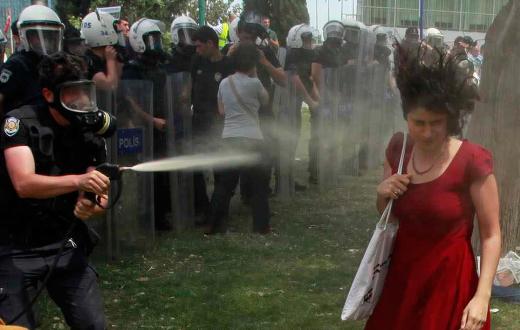 By Manolis Kostidis – Istanbul
A Turkish court has considered tear gas used by police in the neighboring country as "weapons".
A judge in Yalova city had undertaken to judge the case of the death of protestor Cayan Birben who died following police intervention in a fight. Birben died in May 2012 when he attempted to intervene in a scuffle between youths. As he tried to stop them police attempted to push crowds away using tear gas.
Cayan had warned police he suffered from asthma, however the police officer did not hear the warning and threw tear gas in his face.
The indictment against the policemen says a "citizen was murdered with use of weapon". The judge deemed there was clear intention and ordered a 12 year sentence for the police officers who used the teargas, sending the case file to the heavy offences office.
If the penalty in finalized it could set a precedent for the use of teargas in episodes that shook Turkey recently in Gezi park where Turkish police fired thousands of tear gas bombs resulting in the deaths of 5 people, the blinding of a further 11 people and the 8000 protestors being injured!
The episodes that broke out due to the Gezi park incidents began when Turkish police attempted to break peaceful demonstrations in Taksim Square by using thousands of teargas canisters and water cannons which outraged people all over Turkey for more than 3 weeks.
Recep Tayyip Erdogan maintains these incidents were organized by the "interest rate lobby" and "those who wanted to overthrow the government and tried to violently change the climate in Turkey".