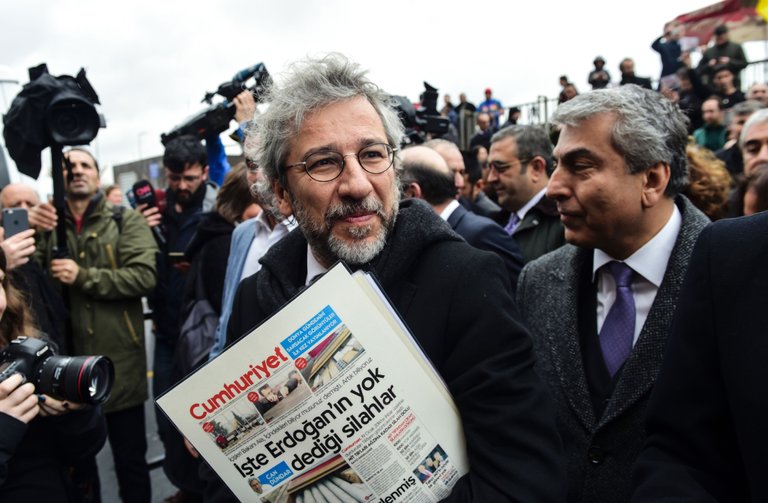 The trial of 17 journalists, columnists and editors of the Turkish newspaper Cumhuriyet has began at the Istanbul Court of Justice.
All of them are accused of having links with terrorist organizations, which is causing a storm of reactions both within Turkey as well as with international public opinion.
The positive development is that the trial has in fact began as all journalists have been detained for more than 200 days in prison without even being tried. The UN commission demands that the journalists be released as it states the arrests violate the World Convention on Human Rights.
The journalists are charged with relations with the Fethullah Gulen Hizmet Movement, which Ankara believes is behind the coup and PKK support. Lawyers and other journalists say the accusations have no basis since the particular newspaper was founded in 1924 and supports the secular character of Kemalism without having links to any Islamic movements.
In 2014 Cumhuriyet argued that the Turkish Secret Service (MIT) was sending weapons to Islamists in Syria on the pretext of humanitarian aid.
The judicial authorities accused the newspaper's  former editor in chief  Can Dundar for relations with Gulen. He, after being held for a few months, resigned and fled abroad and is currently in self exile, contrary to all the other journalists who did not escape and chose to be put on trial
Cumhuriyet editor-in-chief, Bulent Ozdogan, stated that the trial is not only about freedom of the press but about Turkey's post-coup d'état. All journalists face prison sentences of up to 43 years.
Since March 2016, 173 Turkish media have been shut down, such as newspapers, television networks, radio stations, etc. 150 journalists have been detained and 800 journalists pass cards have been removed on accusations of Guilen connections.
The trial began on the 109th anniversary of press freedom in Turkey on the occasion of the removal of censorship in the Ottoman Empire./ΙΒΝΑ