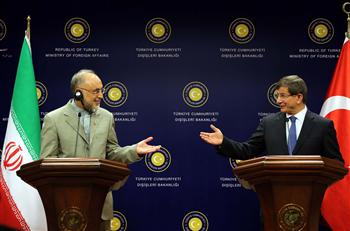 Turkish Foreign Minister Ahmet Davutoğlu and his Iranian counterpart, Ali Akbar Salehi, have called on the parties fighting in Syria to enact an immediate cease-fire for Ramadan during a joint press conference in Ankara on July 12.
"The massacre has to cease. It is impossible to see as legitimate the bombing of civilians, even more during Ramadan. We are calling for a cease-fire to let our Syrian brothers realize Ramadan," Davutoğlu said.
Salehi also joined the call, noting that a similar appeal had been made last year but proved unsuccessful. "During Ramadan, Muslim countries have to be closer to each other. Unfortunately, we are witnessing in some Muslim countries that the blood of civilians is still being spilled," Salehi said, expressing his hopes that a temporary cease-fire in Ramadan would prove itself permanent.