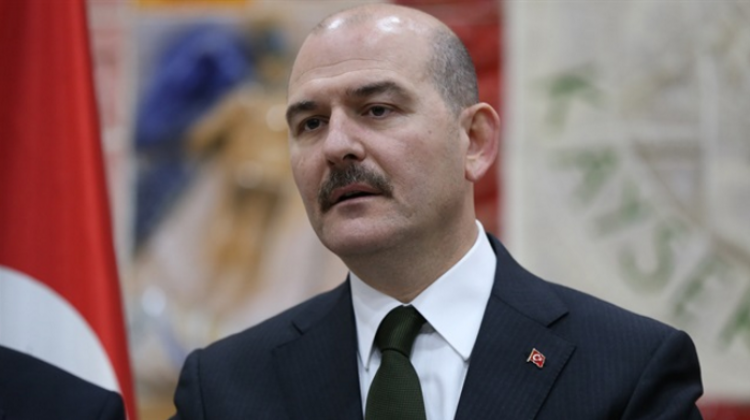 Turkish Interior Minister Süleyman Soylu has threatened to "eliminate" Istanbul Mayor Ekrem İmamoğlu for backing the three Kurdish mayors who have been replaced by state officials for allegedly having relations with terrorism.
"Ignorant! Learn your position and your limits. This country has been handling this terrorist organization for 40 years … If you get involved in things that are not your business, we will eliminate you", Soylu said.
Last month, Turkey replaced the pro-Kurdish Peoples' Party (HDP) mayors in the cities of Diyarbakir, Van and Mardin with government officials and detained more than 400 people suspected of having affiliations with militants, a move that was heavily criticized by the opposition.
On the weekend, İmamoğlu visited the Kurdish city of Diyarbakir and met with two of the mayors who were dismissed. In the municipal elections, İmamoğlu was a candidate for the Republican People's Party (CHP) and won the election with the support of the pro-Kurdish HDP party.
The Turkish government accuses the HDP of relations with the PKK, which has been branded a terrorist organization by Turkey, the European Union and the United States. The HDP denies this connection.
Erdogan deleted Davutoglu from the AKP
The Justice and Development Party's (AKP) Executive Committee unanimously decided to expel Ahmet Davutoglu from the party.
The decision was made after a five-hour meeting of the AKP executive committee chaired by Erdogan.
Davutoglu was one of Erdogan's most trusted aides. As foreign minister he had created his own doctrine in the ministry and he took over the prime ministerial post when Erdogan decided to be elected president.
He resigned as prime minister in 2016.
Davutoglu recently accused the AKP of diverging from its goals and criticized the leadership for demanding that the municipal elections in Istanbul be repeated.
In a recent interview, he attributed the bombings that resulted in hundreds of deaths in Turkey in 2015 to an orchestrated AKP operation. However during the period he cites he was prime minister of Turkey./ibna