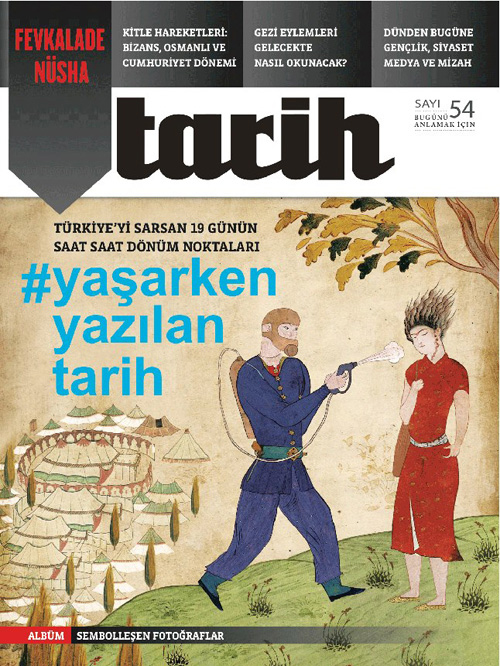 By Manolis Kostidis – Istanbul
NTV Tarih, Turkey's most respected monthly history magazine, was closed down by management decision because its editorial team prepared a special feature for the July edition dedicated to Gezi park events and the clashes that followed.
The feature was titled "Living history while it is being written – The critical moments of the 19 days that shook Turkey to its core" and included a drawing of a picture showing a policeman using tear gas against a woman protesting in a bright red dress.
According to Turkish daily Vatan, the management of Dogus Group that issues the magazine, decided not to print the edition when it was informed of its content and informed employees that it was being terminated altogether.
Employees maintain the decision was made in order for the management to avoid trouble with the Erdogan administration which doesn't want to see any criticism for asymmetric police attacks.
The decision has brought back fears in the neighboring country of press freedom being repressed as TV networks owned by the same group such as NTV, STAR and many others opted to broadcast movies and cooking shows at the time major clashes occurred on Turkey's streets. Many Turks talk of informal censorship.
Already, the CEO of Dogus Publishing Group, Cem Aydin resigned a few days ago.
Dogus Group is owned by businessman Ferit Sahenk who has acquired 50 pct of the Flisvos Marina, Greece.
Jewish Diaspora Behind Violent Episodes, Turkish Deputy Prime Minister Says
Turkey's Deputy Prime Minister, Besir Atalay, claims antigovernment protests that erupted in Turkey in June following the Gezi park incidents, where caused by "external factors and the Jewish diaspora".
"International press directed the episodes in Gezi park and external players as well as the Jewish diaspora incited the events. Those trying to block the way of Great Turkey will not succeed" the deputy PM said.
During the violent episodes that rocked Turkey, a total of four people died while 5000 were injured. The Erdogan government has talked of provocations while protestors maintain events grew larger due to asymmetric police violence.