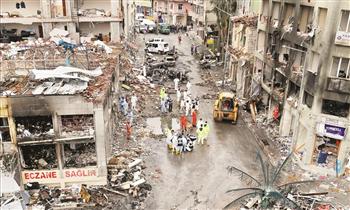 Prime Minister Erdoğan accuses main opposition party deputies of having 'links to dark people' in Syria. CHP head Kılıçdaroğlu strikes back, claiming the government supports terrorism
The prime minister and the main opposition leader of Turkey have hurled severe charges against each other over their approach to the twin-bomb attacks that killed 52 people earlier this month.
Prime Minister Recep Tayyip Erdoğan overtly accused the main opposition Republican People's Party (CHP) of provoking people, while remaining vague about a game being played with sectarianism initiated by forces outside Turkey.
CHP leader Kemal Kılıçdaroğlu harshly criticized the government for the alleged failure to act on time concerning the attacks in Reyhanlı, the town on the Syrian border which was hit by two car bombings on May 11. This failure took place despite intelligence, Kılıçdaroğlu said, quoting the exact date of the intelligence submitted by the National Intelligence Organization (MİT).