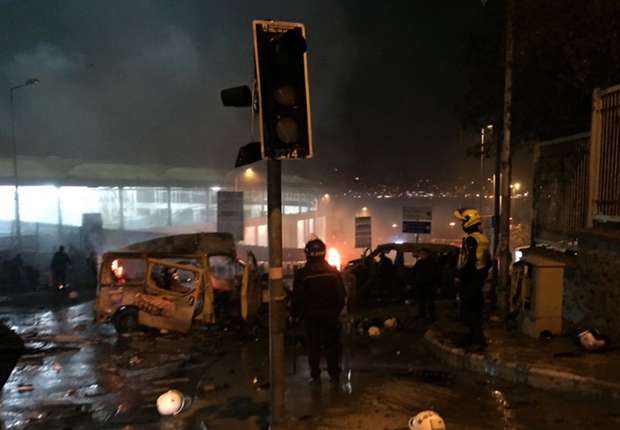 Following  the terrorist attack on Saturday night outside the Beşiktaş Vodafone Arena stadium the Turkish government is concerned about the security of the country.
Thirty-eight people, mostly police officers, were killed and 155 wounded in Saturday's twin bombings in Istanbul, Turkish Interior Minister Süleyman Soylu said in a press conference Sunday.
According to the Interior Minister Süleyman Soylu there were two almost simultaneous attacks. Soylu stated that, a remote control detonated a car bomb for the explosion, 45 seconds afterward, a suicide bomber caused a second explosion at Macka Park. The two locations are less than a mile apart.
The evidence – 30 dead policemen as well as the majority of the wounded also in the police force – points to the fact that the terrorist's target were the members of the Turkish police force situated in the area around the stadium.
The Turkish authorities' concern begins with the identity of the perpetrators. ISIS and PKK are the two most likely possibilities. On the one hand Turkey is participating in operations against ISIS inside Syria and on the other fighting in southeast Turkey against the PKK is still ongoing while 9 kurdish HDP MPs accused with a PKK affiliation remain in prison.
One cannot rule out other Islamic fundamentalist organizations. But so far no organization has claimed responsibility for the attack.
 The terrorist attack causes disappointment in Turkey, since after the failed coup attempt of July 15th no terrorist attacks have taken place and it was believed that terrorist activity had declined.
Turkish President Recep Tayip Erdogan canceled his trip to Kazakhstan and Turkey declared a one day mourning for the victims of the terrorist attack./IBNA