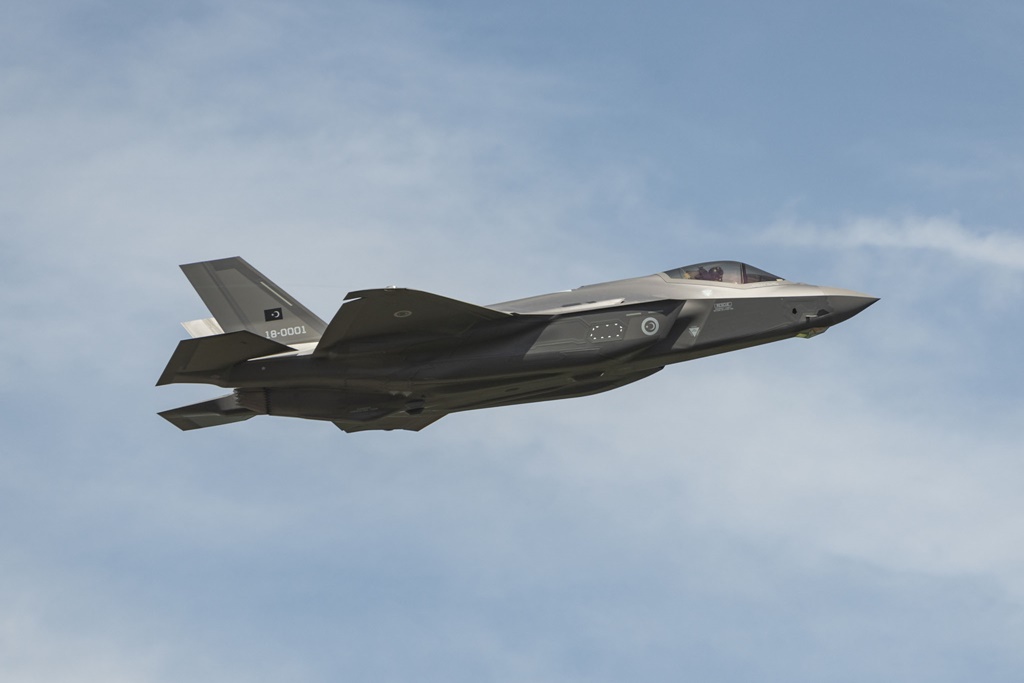 The Turkish General Staff announced on Tuesday that a Turkish fighter pilot flew an F-35 aircraft for the first time in the U.S., in the framework of an "ongoing training", Anadolu read.
On June 21st, Turkey took delivery of its first F-35 fighter jet at a ceremony in ForthWorth, Texas and early in July, the Pentagon had said that Turkish fighter pilots and maintenance personnel were being trained on the F-35 jet in Arizona.
Turkey's initial plan was to get 100 F-35 fighter jets in total in the next years, with the first batch containing 30. Until now, it has received only one. Meanwhile, only days ago, the State Department reiterated its opposition to Ankara's planned purchase of an advanced Russian air defense system, the S-400.
However, there is good news despite the objection of some members of the U.S. Congress who had spoken out against the sale (the English edition of the Greek newspaper Kathimerini had said in February 2018 that "The most active proponents against the deal are reportedly congressmen of Greek and Armenian heritage"). Defence Secretary Jim Mattis urged the Congress "not to bar Turkey from purchasing the Lockheed Martin F-35, arguing that to do so would trigger an international 'supply chain disruption' resulting in delays and higher costs for the $100 million aircraft", defensenews.com had reported.
What's more, "The Pentagon has tried to keep tensions with Turkey to a minimum and earlier succeeded in watering down legislation that would have blocked the sale of the F-35, the latest US fighter jet, to Turkey, despite Ankara's planned purchase of the Russian air defense system", kurdistan24.net had read.
The site went on to add, "However, there is strong sentiment in Congress that Turkey is no longer acting as a US ally. On Friday (Aug. 24), the Senate passed a bill that would prohibit Turkey from receiving the F-35, if it proceeds with the acquisition of the S-400. The legislation has now gone back to the House of Representatives for its approval."
So, although there is Turkey's presence and participation in the F-35 programme since 1999 and its defence industry's active role in its industrial production -Alp Aviation, Aselsan, AYESAS, Fokker Elmo, Havelsan, Kale Aerospace, MiKes, ROKETSAN and Tubitak-SAGE and the Turkish Aerospace Industries (TAI) have been producing parts for the first F-35 fighter jet- last week, Alexander Mikheyev, head of Russia's state weapons exporter, Rosoboronexport, announced that "Moscow was moving up the planned delivery of the S-400 to Turkey from 2020 to 2019", kurdistan24.net reported.
If Ankara proceeds with the purchase of the Russian weapon, Washington is ready to block the former's acquisition of the F-35 aircraft.
Last but not least, State Department Spokesperson Heather Nauert's response to the above mentioned network about the Russian announcement, leaves no space for assumptions:
"It goes against our policy to have a NATO ally such as Turkey use an S-400 system. It is not interoperable with other NATO systems," she added, so we oppose the purchase of the S-400 by "our partners and allies around the world."…. / IBNA