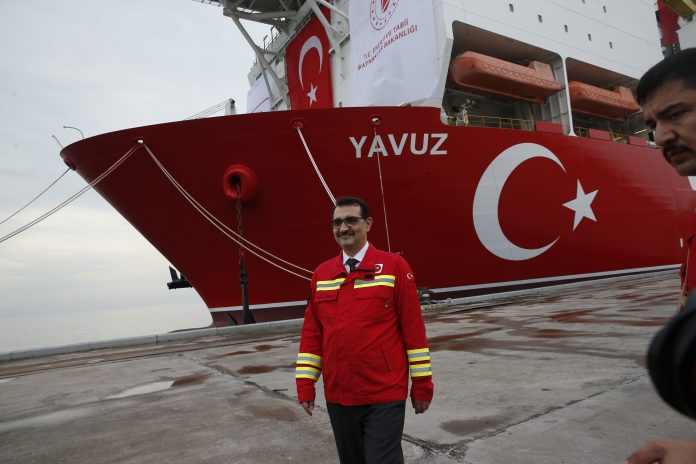 They visited the Turkish drilling rig accompanied by the occupied territories' officials
By Michalis Michael
Yavuz's drilling has reached a depth of 1710 meters off the coast of Karpasia, as the Turkish Energy Minister Fatih Dönmez stated, who was visiting via helicopter the Turkish driller alongside the "Prime Minister" Ersin Tatar and the "Energy Minister" Hasan Taçoy.
The Turkish Minister also said, as reported by the Cypriot agency from Ankara, that "Yavuz" will complete its program in 2.5 months, while the seismic ship "Oruc Reis" will commence its research in the Eastern Mediterranean in August.
"As you know, Yavuz is the last drill to join our registry. Fatih continues its operation west of the island. Our drill Yavuz continues drilling in Karpaz 1. To date we have drilled 1710 meters deep. Its program here will last about 2.5 months. We hope, God willing, when we reach our goal, we will also reach the gas. Our slogan is 'If it exists, we will find it'. If it exists at that area, we will discover it as soon as possible", the Turkish Energy Minister said.
Fatih Dönmez also added that Turkey would send another research vessel to the occupied territory in August and therefore there would be two drilling rigs and two seismic vessels in Turkey in general. "Barbaros continues its seismic investigations south of Cyprus in areas the state-owned oil company (TRAO) has been granted permission by 'TRNC'. In August we will also ship to the Mediterranean our second seismic vessel, Oruc Reis. Therefore, we will operate in the Mediterranean with two seismic ships and two drilling rigs" he added.
Drilling is a national matter
Regarding the proposal submitted by the Turkish-Cypriot side to the Greek-Cypriot side to set up a joint commission on hydrocarbon mining, Fatih Dönmez declared that Turkey supports it. "As you know, we fully support the protection of the rights and interests of our expatriates living in the 'TRNC'. We have stated that we do not acknowledge the illegal areas of maritime competence that the Greek-Cypriot side has unilaterally declared, resulting to the latest developments. Last month, the "TRNC"'s Government put forward a proposal to set up a joint committee to jointly evaluate and fairly allocate hydrocarbons. However, the 'Greek Cypriot administration'-as he referred to Cyprus- rejected this proposal. "We hope that this serious proposal will be reconsidered, and it will be in the interest of both sides to come together to work. I want to say that as guarantors we will support these meetings", Fatih Dönmez added.
The Turkish Minister said he wants to see the drilling operation providing results across the island soon, while thanking Turkish President Tayyip Erdogan for his support on the issue, stating that drilling is a national affair./ibna