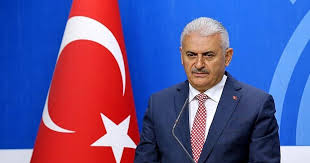 On Wednesday, December 27, the Prime Minster of Turkey, Binali Yildirim addressed the press a short while before leaving to Saudi Arabia, from Ankara's Esenboga Airport and spoke specifically about the meaning and importance of a new emergency governmental decree of last Sunday, December 24.
"The regulation is aimed at protecting the citizens who ran to the streets, laid down their lives to prevent the attempted coup and events right after it," Yildirim told reporters only to add, "The issue is loud and clear. Nobody should create distractions."
As Anadolu news agency reports, "Sunday's decree grants immunity to civilians who defended Turkey's democracy on July 15 and 16. However, some interpreted it as giving immunity for future transgressions.
Justice Minister Abdulhamit Gul said Monday the decree applied to the night and following morning of the defeated coup to ensure legal action was not taken against people who opposed pro-coup forces."
According to the leadership in Turkey, Fethullah Gülen -a Turkish preacher, former imam, writer, political figure and founder of the Gülen movement (known as Hizmet) who now lives in exile in the U.S. and "has an empire of affiliated banks, media, construction companies, and schools, especially those providing primary and secondary education, in Turkey (in which business entities and foundations have been closed down by the Turkish government by the thousands in 2017) and in Africa, Central Asia, the Americas, and Europe"- is the man behind the 2016 Turkey coup that left 250 dead and over 2,000 persons injured.
Since 11 December 2015 the Gülen movement is classified as a terrorist organization by Turkey under the assigned names Gülenist Terror Organisation (Fethullahçı Terör Örgütü, FETÖ) or Parallel State Organisation (Paralel Devlet Yapılanması, PDY).
FETO has been accused for its efforts -according to the Turkish state- to overthrow the countries democratic government through "the infiltration of Turkish institutions, particularly the military, police and judiciary", that has resulted to the detention, arrest and/or trial (depending on the case) of thousands of civil servants in the country, ever since the end of the July 2016 attempted coup, to a great extent.
Yildirim, who is traveling to Saudi Arabia in order to pay an official visit, will have a get together with King Salman bin Abdulaziz and Crown Prince Mohammed bin Salman, with whom he will talk about international and regional affairs, among them, the U.S. recognition of Jerusalem (as Irael's capital)…/IBNA