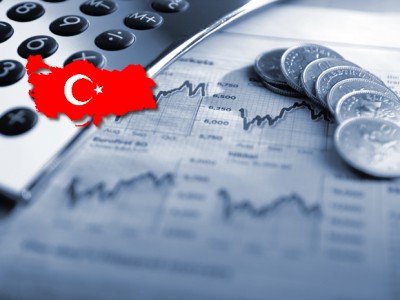 Ankara, December 17, 2014/ Independent Balkan News Agency
The devaluation of the lira and the interest rates worry the markets
By Manolis Kostidis
Reflection is prevalent in the Turkish government, due to negative news coming from the front of the economy.
The Turkish lira in the last month was depreciated by 5.7% against the dollar and 5.6% against the Euro. Its exchange rate exceeded the historical low of 3 lira per Euro.
At the same time, the interest rates of turkish bonds reached 8.78%, which are the highest in the last two years.
The main reason for this turmoil is the economic developments in Russia. The Turkish construction companies in recent years have undertaken projects worth USD 20 billion and devaluation of the ruble is a cause of concern. Other reasons for markets' relactance are the political developments in Turkey, namely the arrests of newspaper directors, the way Erdogan governs, by gathering all the powers of the state to his person and finally, his dispute with the EU.
The devaluation of the Turkish lira might, however, benefit the tourism and export business, since the services and Turkish products will become cheaper.
But analysts say that many construction companies that have undertaken massive public projects, such as the new airport of Istanbul, which will cost USD 25 billion, or the motorway Izmir-Istanbul, have received consortium loans in foreign currency and the devaluation of the lira might put them on a tight spot.
In addition, Turkey is burdened by huge amounts of gas and oil purchases from Russia, as each year it spends USD 25 billion for this reason.
Unemployment in Turkey has reached the record level of 10.5% since 2011. According to the Statistical Service, in September 2013 unemployment was at around 10.1%. In 2014 the Turkish economy grew by 4.4%, while in 2014 growth is expected to "slow down" and close at 3.3%.