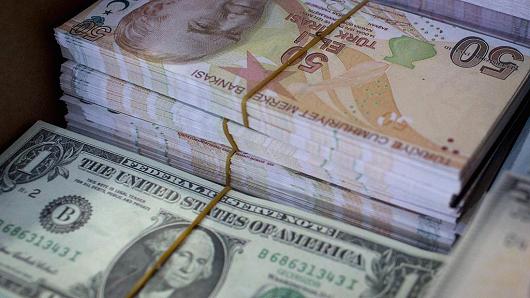 Turkey's economy grew 1.8% YoY in 2020 amid an economic crisis that resulted from the coronavirus pandemic, the country's statistical authority announced on Monday.
The country's gross domestic product (GDP) at current prices stood at 5.1 trillion Turkish lira (about $ 717.1 billion) last year, according to TurkStat.
In the last quarter of 2020, the economy recorded an annual growth rate of 5.9%, based on TurkStat data. The institution also revealed that seasonal and calendar GDP grew 1.7% compared to the previous quarter.
Turkey and China were the only countries with positive growth rates among all G20 countries for which data are available, while the rest shrank over the same period.
Performance in the last quarter increased cumulative GDP at current prices by 16.8% YoY.
The economy grew by 6.3% in last year's Q3 after shrinking by 10.3% in the second quarter, as the impact of the coronavirus began to be felt strongly, with Turkey's GDP growing by 4.5% in Q1.
According to TurkStat data, the US dollar/Turkish lira exchange rate oscillated around 7 in 2020.
Turkey's new economic program announced last September projected the Turkish economy growing 0.3% last year. In 2019, the country's growth rate was 0.9%.
Value added in 2020 increased by 4.8% in the agricultural sector and 2% in industry from the previous year.
A 4.3% dip was recorded in the services sector -wholesale and retail trade, transport, storage, accommodation, and food service activities and 3.5% in the construction sector, as both sectors were severely affected by the pandemic.
"Value added increased by 21.4% in financial and insurance, 13.7% in information and communication activities," Turkstat notes.
Last year, per capita GDP was 60,537 Turkish pounds ($ 8,599) at current prices.
Imports of goods and services rose 7.4% while exports fell by 15.4% compared to the previous year, the institution adds.
Commenting on the annual data, Finance and Economy Minister Lutfi Elvan pointed out that Turkey is one of the few countries that wrapped up 2020 with positive growth.
Küresel sağlık krizinin damga vurduğu 2020'yi büyümeyle kapatan nadir ülkelerden olduk.

2021 yılında temel önceliğimiz fiyat istikrarının sağlanması.

Enflasyonla mücadele politikalarımız daha kaliteli ve sürdürülebilir bir yatırım, üretim ve büyüme patikasının da önünü açacak.

— Lütfi Elvan (@lutfielvan) March 1, 2021
Ensuring price stability is Turkey's top priority in 2021, Elvan said on Twitter.
"Our policies to tackle inflation will pave the way for more appropriate and sustainable investment, production and growth," he said. /ibna