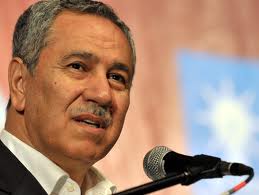 By Manolis Kostidis – Ankara
For the first time since the Justice & Development party came to power in Turkey, Erdogan has been publicly criticized by the most important party member and government vice-president Bulent Arinc. The reason for the attack and the disagreement was Erdogan's comments on male and female student living in the same dorms and his insistence on taking action to ensure they are prohibited from renting the same houses.
Erdogan's statements were published in Zaman newspaper based on information leaked after a behind closed doors party meeting. Bulent Arinc, as vice-president, had denied the reports, having realized that a part of public opinion would react strongly to the PMs views.
However, the next day Erdogan went on public record reiterating his opinions, essentially letting down the deputy Prime Minister.
Bulent Arinc didn't stay silent though as he had done in the past, but gave an interview to Turkish state TV network TRT saying Erdogan exposed the government unnecessarily.
"There is a clear contradiction between his speech as a Prime Minister and my statement as government spokesman. This contradiction isn't my fault and perhaps Erdogan should explain it" Arinc stated.
The deputy PM reminded Erdogan of his place in the party and stated "my responsibility in the government is not just being minister. I am not a simple minister with a portfolio. I am someone who represents opinions, thoughts, the past, present and future of this party. This is how everyone sees me. I am not a punch bag! I have influence in the party".
Arinc expressed his view on same-sex dorms and seemed to disagree with Erdogan. "I understand what the Prime Minister is trying to say for the protection of our youth, and I agree, but I don't think it is right to say we may need to legislate on the issue and prefects saying they will do what the Prime Minister asks them to," Arinc said.
Recep Tayyip Erdogan had stated he was in favor of separate student halls for male and female students, continuing to raise concern to the opposition who thinks he is leading the country closer to Islam.
"As a conservative party, everybody's children and students are under our protection. We don't allow and we will not allow male and female students to stay in the same houses. Columnists can write what they like. This cannot be acceptable in terms of education and performance. We continue to separate male and female students and have progressed on the issue by 70 pct" the Turkish Prime Minister had stressed.
Seasoned political analyst and columnist Hasan Cemal says "the Bulent Arinc issue is a message that the AKP doesn't only belong to Erdogan."
Bulent Arinc had disagreed with Erdogan's tough stance during the Gezi park incidents and had tried to reduce tensions when the PM was abroad.