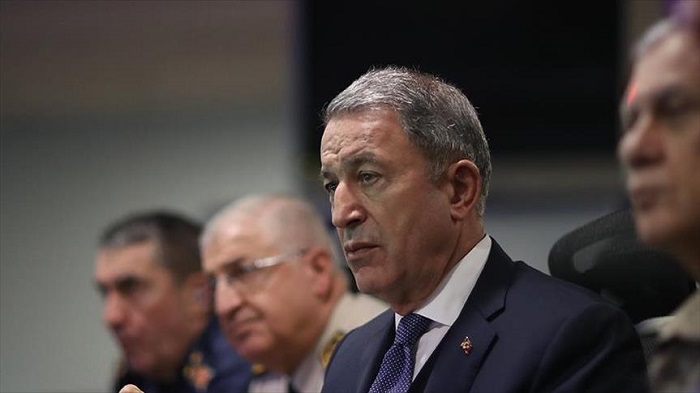 Multiple messages were sent by Turkish Minister of Defence Hulusi Akar during his visits to various locations where the "Blue Homeland" Aeronautical Exercises takes place. Akar sent a message of cooperation and tension reduction with Greece and stressed that Ankara is trying to improve Confidence Building Measures.
"In the context of good neighborly relations and international law, we are trying to improve confidence-building measures and bring our relations at a better level. Through our meetings with our counterparts as well as the committees' meetings, we work in order to upgrade our relations. Of course, in the Aegean, the Mediterranean and the Black Sea, we are working endlessly and without any shortage to defend our nation's rights and interests", declared the Turkish Defense Minister.
However, the Turkish Defense Minister in his statements during his visit at the Turkish frigate Gediz, stressed that Turkey and the Turkish Armed Forces are and will be at the side of the Turkish Cypriots and also recalled that they should have a share of the island's natural gas. "The Turkish Republic of Northern Cyprus" participates in the natural wealth around the island. So, our expatriates, i.e. those living in the TRNC, must take part in this wealth, as they have a right to share and they have rights on the island, and everybody has to understand it and behave accordingly", he highlighted.
At the same time, he said that he is in favor of defining the competence of maritime regions and stressed that the necessary work must be done in order to have fair and lasting solutions.
"In order to avoid tensions and conflicts, we stress every time that everyone should be sensitive and avoid any provocation."
On Tuesday, men of the special forces SAT and SAS carried out an exercise that was designed for the landing and the occupation of an island. The exercise took place on an island near Fokea and was completed with the landing of the armored vehicles of the Turkish armed forces.
Turkish President Recep Tayip Erdogan in a speech to the masters expressed his hope that the successes will be increased and the executives will be determined to continue the effort of sovereignty of the seas from the time of Barbarossa until today. Above all, with what we did with the Burgazada Corvette and with our frigates built in our yards, I believe we will have a greater presence in the seas and we will be safer", he stressed./IBNA