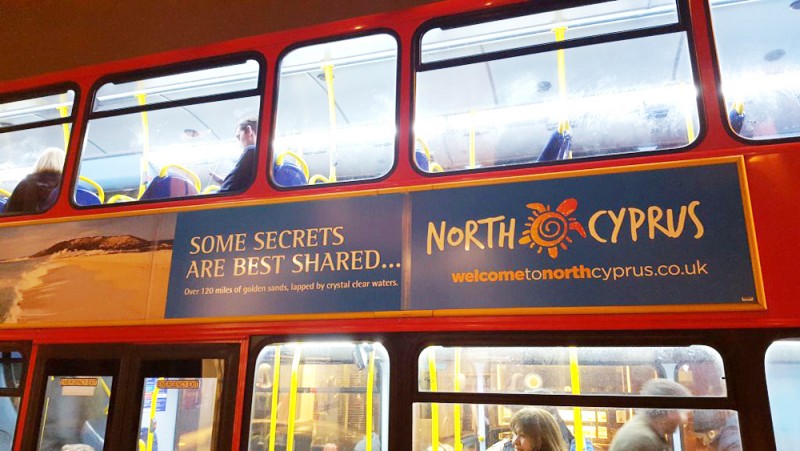 London, January 27, 2016/Independent Balkan News Agency
By Thanasis Gavos
A Turkish Cypriot tourism promotional campaign in the UK has raised a wave of fury among the organised Greek Cypriot diaspora, with associations beginning a concerted campaign of their own, aiming to discontinue the advertisements.
The tourism agency of the so-called Turkish Republic of Northern Cyprus, an entity recognised only by Turkey, has been promoting the region's beauties to the public in London and Manchester since just before Christmas. Traditional and digital posters have been placed on a hundred red buses in the British capital, on walls of a number of underground train stations, as well as in Stansted, Luton and Manchester airports.
With the north of Cyprus being under occupation by Turkish troops since 1974, the Greek Cypriots have taken offence at the campaign, demanding an end to it with letters to all stakeholders in London.
Transport for London, the London Mayor's public transport agency, the members of the Greater London Authority Assembly, the Mayor Boris Johnson himself, Members of Parliament and the Advertising Standards Authority have received letters by the National Federation of Cypriots in the UK, the Lobby for Cyprus, associations and individual citizens arguing that the promotion of occupied property in such a way deeply hurts the refugees who had to flee their homes in 1974 and later found refuge in the UK, with the majority of them now being British citizens.
The letters highlight the legal and practical consequences of a visit to a land administrated by an illegal regime, and refer to court decisions which have vindicated Greek Cypriot refugees in claiming ownership of their occupied property – such as the case of Apostolidis-Orams and the recent temporary account freezing order issued by a British court against Turkey, in favour of eight Greek Cypriot claimants.
The High Commissioner of the Republic of Cyprus in London, Euripides Evriviades, has also penned similar letters, including a detailed analysis of the situation addressed to Boris Johnson.
A similar case in 2005 ended in favour of the pseudo-state, as a British court found no basis to uphold a Transport for London decision to terminate the Turkish Cypriot promotional campaign following intense complaints.
IBNA understands that the leadership of the organised UK Cypriot community has been in contact with legal advisors in order to minimise the likelihood of Transport for London citing the 2005 court decision as an argument to reject the calls for ending the fresh campaign.
The Turkish Cypriot campaign is due to last until the end of February.
Photo: Sigmalive.com