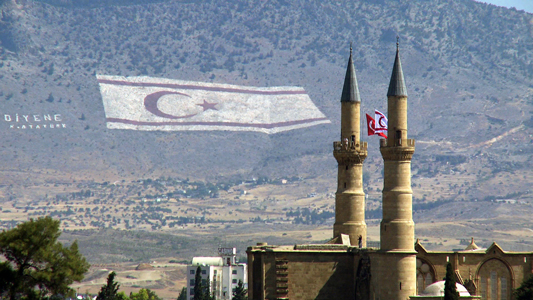 By Kyriacos Kyriacou – Nicosia
The so-called Ministry of Foreign Affairs of the Turkish occupied North part of Cyprus announced that the European Parliament's joint resolution condemning Turkeys' violations in Cyprus' EEZ is "one sided" and "unacceptable".
The so-called Ministry complains in an announcement that the Turkish Cypriot side has no right of speech in the European Parliament.
It adds that the decision taken by the EU parliament does not commit Turkey to take any actions.
The Turkish Cypriot side also calls Greek Cypriot President of the Republic of Cyprus Nicos Anastasides to return the table of negotiations to reunite the divided island.
The European Parliament on Thursday passed a joint resolution condemning Turkey for its actions within Cyprus' EEZ and demanding Ankara to withdraw its vessels from the area immediately.
The EP draft resolution makes it clear that Cyprus has full and sovereign right to explore the natural resources within its EEZ, and that "the Turkish maritime surveys must be seen as both illegal and provocative".
It demands that Turkish vessels operating in waters in and around the EEZ of Cyprus "be withdrawn immediately".
Meantime, nine large Greek and Cypriot American organisations have sent a letter to UN Secretary General`s Special Adviser on Cyprus Espen Barth Eide expressing concern over the UN's response to Turkey's violations of the island's exclusive economic zone (EEZ).
The letter was signed by the heads of the Hellenic American Leadership Council, the National Coordinated Effort of Hellenes, the American Hellenic Institute, UHAC National, AHEPA, PSEKA, Cyprus Federation of America, the Hellenic Federation of New Jersey and the American Hellenic Council.
It said that while they welcomed his appointment as special adviser his reaction to date "leaves us less confident about the efforts to reunify Cyprus than we have been for over a year".
"While we can appreciate attempts to deescalate tensions via quiet diplomacy, we fear that the extraordinary attempts your team and others are going through to avoid calling Turkey's actions a provocation and statements that effectively blame the victim – the Republic of Cyprus and Greek-Cypriots in this case – are taking the process backwards", the letter said.
"We will not recite the 40 year history of illegal invasion and occupation, as it is plainly laid out in UN resolutions. Our desire is to get past that tragic history. We do not have details of your quiet diplomacy and have not had the pleasure of meeting with you as of yet, but the actions you are taking and statements you are making during this last crisis come close to sanctioning Turkey's continued blackmail of Cyprus", the letter continued.
President Nicos Anastasiades decided to suspend his participation in the UN-backed negotiations for a solution to the Cyprus problem, after Turkish seismic exploration vessel Barbaros illegally entered Cyprus` EEZ to conduct research, a few days after Turkey issued a maritime order (NAVTEX) for the area.