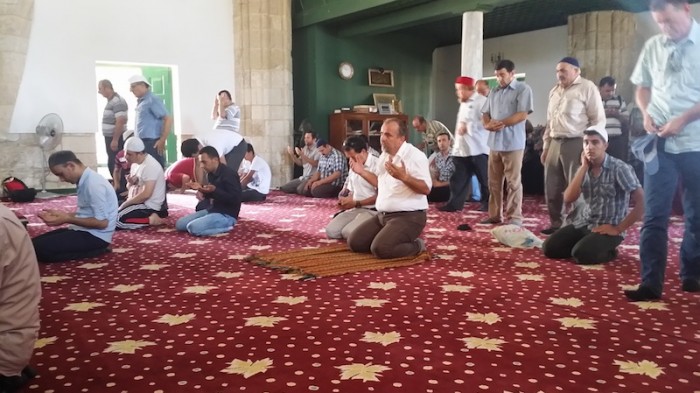 Nicosia, July 21, 2015/ Independent Balkan News Agency
By Kyriacos Kyriacou
Around 1000 Turkish Cypriot pilgrims and Muslim pilgrims of Turkish origin celebrated the Muslim feast of Ramazan Bayram, at one of their holiest sites, the Hala Sultan Mosque, in the southern coastal town of Larnaca, Cyprus.
About 20 buses carried the pilgrims, accompanied by the police special anti-terrorist squad and the Emergency Response Unit, from the northern Turkish occupied areas of Cyprus to the southern government controlled part of the island.
"We are very happy to be here and we are very thankful, especially to the Archbishop and the Swedish Ambassador and his government for their help and support," Turkish Cypriot Mufti Talip Atalay said.
Invited to convey a message to Greek and Turkish Cypriots, he said "peace, only peace. We want peace, we want to live together in peace in Cyprus and the region, not only in Cyprus but in the Middle East".
Asked whether he is optimist regarding the negotiation process, he said that "we are very hopeful. We are here, you are here and we are talking to each other. I get a chance to say something to the Greek community, so all this says something to us: peace is coming".
In this framework he thanked Cypriot Foreign Minster Ioannis Casoulides "and all the people who gave their support for this pilogrimage".
On his part Ambassador of Sweden in Nicosia Klas Gierow said that he is very happy to be here today, and expressed full support to what the Mufti said.
"I think this occasion today and the meeting and the celebrations are saying that the dialogue is very important, the religious dialogue as we can see is important in contributing to bring peace on the island and the reunification of the island is part of the process" he noted.
"So I am very happy and I would like to thank all people involved in this, the Archbishop and all persons who have been very helpful to make this possible and the Foreign Minister of the Republic Ioannis Casoulides, who has given his permission, and your excellent work Dr Atalay, which has been very important to make this happen," he added.
Cyprus, an EU member state since May 2004, is divided since the invasion in the summer of 1974. UN led talks to reunify the island under a federal roof are underway.