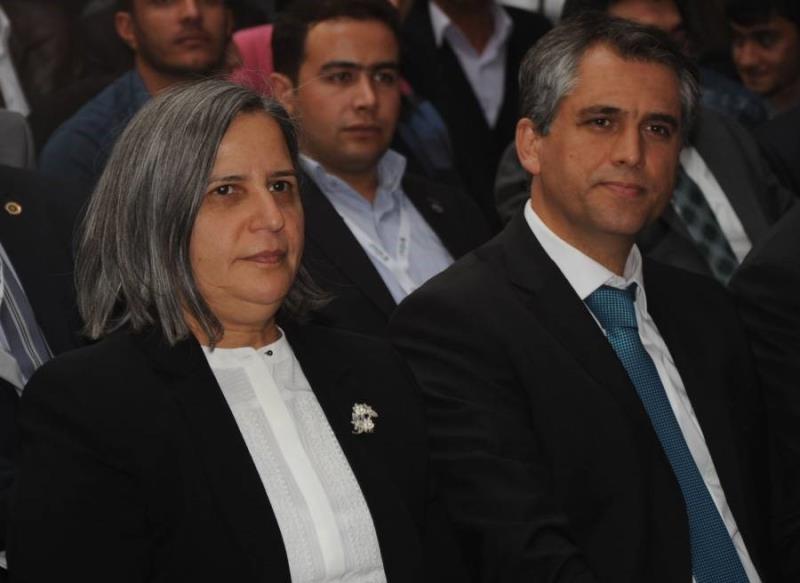 A court in the southeastern province of Diyarbakır arrested Gültan Kışanak and Fırat Anlı, the co-mayors of the province, late on Oct. 30 following their detention last week in the latest blow to opposition movements in Turkey.
The Diyarbakır Chief Public Prosecutor's Office charged Kışanak with "being a member of an armed terrorist group," while Anlı was charged with "trying to separate land under the state's sovereignty."
Ayla Akat Ata, a former lawmaker of the Peace and Democracy Party (BDP), a forerunner of the Peoples' Democratic Party (HDP), was also arrested after being detained in a protest against the detentions of the co-mayors. Akat was charged with "managing a terrorist organization."
The arrests drew reactions from the main opposition Republican People's Party (CHP) and the HDP, with one of the latter's co-chairs terming the moves as "kidnapping, not an arrest."
"If you call it an arrest, then you accept that the law made a decision and the legal mechanism works. Arrest is a legal term, but there is no law. This is abduction and kidnapping," HDP co-chair Selahattin Demirtaş said, adding that there were no "fair trials" but only "political operations."
The HDP group deputy chairman also said it was "an attack on the honor of the people."
"This is not an issue of Anlı, Akat and Kışanak being arrested. This is an issue of an attack on the people's honor, dignity and will," İdris Baluken wrote on his Twitter account.
A lawmaker from the CHP also reacted against the decision, saying "it's wrong on top of wrong."
"Fırat Anlı, who said that 'we are the last generation to talk about the Kurdish issue,' was arrested," Istanbul CHP lawmaker Sezgin Tanrıkulu wrote on his Twitter account.
The co-mayors from the Democratic Regions Party (DBP), a sister party of the HDP, were detained late on Oct. 25 on "terrorism" charges.
Kışanak was a former member of parliament from the HDP before her election as mayor in Diyarbakır. The duo were taken into custody as part of an investigation into their alleged links to the outlawed Kurdistan Workers' Party (PKK), the Diyarbakır Prosecutor's Office said in a written statement.
The two are accused of making speeches in support of the PKK, allowing PKK militants to use municipal resources, inciting violent protests and attending illegal meetings and rallies, the prosecutor's statement said.
Main opposition leader Kemal Kılıçdaroğlu criticized the detention of the co-mayors on Oct. 27, asking why Kışanak and Anlı were not detained previously "if they supported terror."
"If they supported terrorism, why weren't the necessary steps taken before? Turkey should have solved this by staying within the boundaries of law," he said.
"You are entering the municipality with police officers today that you entered with delegations and ceremonies yesterday," he also said during a Central Executive Board (MYK) of his CHP./IBNA
Source: Hurriyet Daily News