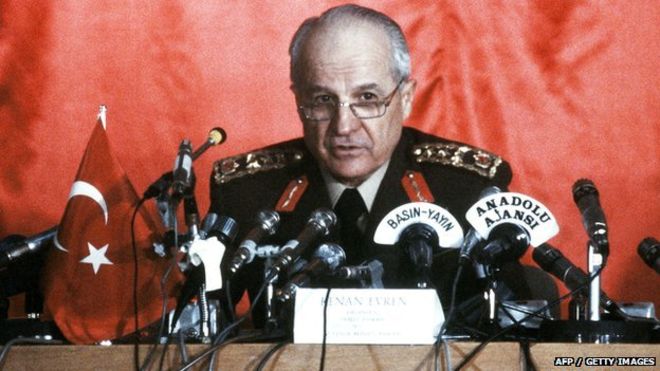 Ankara, May 11, 2015/ Independent Balkan News Agency
During his term 49 persons were executed, among who a 17-year old… 171 others died from torture!
By Manolis Kostidis
"The death of the dictator." With this title, the Turkish newspaper Cumhuriyet highlights the climate in Turkey over death, at the age of 98, of the instigator of the 1980 coup in Turkey, former general and former Turkish President Kenan Evren. He was hospitalized at the military hospital GATA in Ankara.
Evren had seized power on September 12, 1980 with a military coup and had overthrown the government of Suleyman Demirel.
The Evren regime was the toughest of the three coups the country (1960, 1971, 1980). It imposed censorship, dissolved trade unions, jailed political leaders.
About 650,000 Turks were arrested, 230,000 were brought to trial, 300 people died in prison, 171 were killed from torture, 517 people were sentenced to death, 49 of them were executed. Most of those executed were leftists, among them a 17 year old whom the authorities changed the age in his identity card, in order to be able to execute him!
In black letters has been written Evren's statement: "What we supposed to do with them, not hang them to have to feed them?"
Evren remained president of Turkey until 1989. He is the only coup instigator in the history of Turkey who was tried for his actions, albeit late. In 2014 a Turkish court imposed a life sentence and was downgraded to class soldier!
In his trial through videoconferences he remained unrepentant of what he did and said: "we we did what we had to then. Today we would have done the same thing".
Despite his conviction, on Tuesday he will be buried with the honors of a head of state, since according to the Turkish protocol, despite having been stripped of his military rank, he will be buried as a former president.
The author of this article, on September 13, 1980 in Istanbul, had gone out with his father who had run out of cigarettes, because of the curfew that had been imposed in Turkey, looking for an open tobacco shop.
Soldiers of the regime arrested the father in front of his 7-year old son, who returned home to deliver the unpleasant news to the mother.