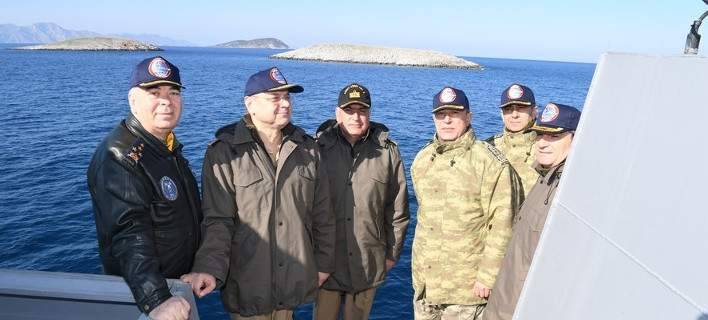 Two days before prior to the 21st anniversary from the "Imia Crisis", which had brought Greece and Turkey to the brink of war, and three days after the Supreme Court's decision not to extradite eight Turkish officers seeking asylum after accusations that they were part of the failed coup, Turkey made sure it created tension in the Aegean.
At 11 am on Sunday the Turkish Chief of Staff Hulusi Akar visited the naval base Aksaz and from there he boarded a Turkish Navy missile boat.
An order was given to approach Imia while the Turkish missile boat was also accompanied by two smaller boats with special forces commandos approaching the islets. The Turkish missile ship approached the Imia region and remained in the area for about 20 minutes; no attempt to land on the islet was made.
Akar was photographed in the area with the Imia islets as a backdrop, together with General Salih Zeki Çolak, Commander of the Turkish Land Forces, Commander of the Turkish Naval Forces Admiral Bulent Bostanoglu and Commander of the Turkish Air Force General Abidin Ünal.
By noon the story of Akar's visit to Imia broke on all Turkish media.
Following confirmation of Akar's presence in the area the Turkish Armed Forces General Staff stated that "Chief Akar said that our actions as Turkish Armed Forces in the Aegean Sea, are to defend our positions and interests in the sea and we always focus on friendship and peace. Also, the Turkish Armed Forces continue their efforts to defend the country's rights and interests and our nation on land, at sea and in the air with vigour and determination. "
Turkish Defence Minister Fikri Isik following a question by the press on the subject stated "that we want every problem to be solved through dialogue in a peaceful way. Our stance on this issue continues. But everyone should know that Turkey will not succumb to any fait accompli in the region. The truth is that I do not have detailed information. But as I said, our most basic principle, is that issues must be solved by talking with peaceful methods", he said.
The presence of General Hulusi Akar in the Imia region is considered a reminder of Ankara's standing position on the existence of "grey zones" in the eastern Aegean. As well as the questioning of Greek sovereignty over at least 16 islets. Recently there had been many negative articles in the Turkish press about the economic exploitation program and the 28 inhabited islands of the Aegean which was revealed by Greek Deputy Minister for Island Policy Nektarios Santorinios.
At the same time this move by the Turkish leadership is considered to be a move made to lift the morale of the armed forces after the arrests of thousands of officers accused of participating in the attempted coup and after dozens of lost their lives following the invasion of the city Al Bab in Syria./ΙΒΝΑ