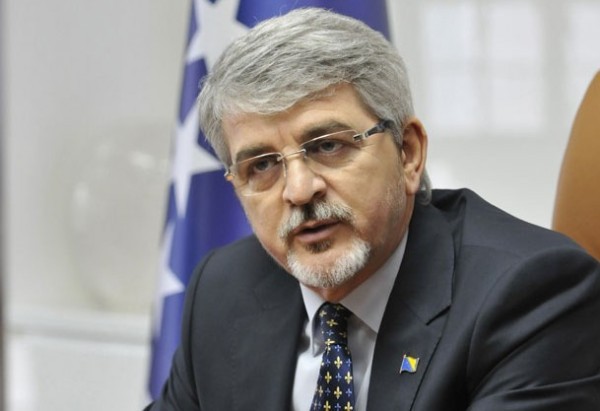 Sarajevo, June 4, 2015/ Independent Balkan News Agency
By Hamdi Fırat Büyük
Muzaffer Çilek (photo), who currently sits as the Honorary Consulate of Bosnia and Herzegovina to Bursa and acts as the CEO of the furniture company, Çilek, has been appointed as a senior advisor to Bakir Izetbegovic, the Bosniak member of the Presidential Council of Bosnia and Herzegovina.
Çilek, who comes from a family of Bosniak origin, is also the founder of the BİGMEV Foundation, an organization that aims to promote a rise in trade and the establishment of stronger financial links between Turkey and Bosnia. Çilek has continued to invest in several sectors in Bosnia since 2009.
Up until now, under Çilek's leadership, BİGMEV has facilitated several Turkish investments in Bosnia and created hundreds of jobs in Bosnia, (mostly aimed at employing the Muslim Bosniak population), through the arrangement of trade forums and meetings and the development of various projects funded by ministries, as well as through regional and international institutions.
Furthermore, Çilek's close links with Turkey's ruling Justice and Development Party (AKP) are no secret. In 2013, he was appointed as a member of the Advisory Board for Turkish Citizens and Relatives Abroad, on Turkey's Prime Ministry for Turks Abroad Committee.
Izetbegovic, to whom Çilek has now been appointed a senior advisor, also shares very close ties with the AKP, Turkish President Recep Tayyip Erdoğan, and Turkish Prime Minister Davutoğlu.
It is known that Izetbegovic, as the most experienced of the three members of the Bosnian Presidency and as the only son of the country's founder, Alija Izetbegovic, offered his full support to Erdoğan during his presidential campaign. Last year in a public meeting, as part of Erdoğan's presidential campaign, Izetbegovic took part in a teleconference with Erdoğan, during which he stated that if Erdoğan were elected president, he would not only act as president of Turkey but also as president of Bosnia.
Public in the square and AKP supporters cheered for his statements but at home in Bosnia, Izetbegovic met with harsh criticism from many circles, including his own party, the Party of Democratic Action (SDA).
In return, the AKP and Erdoğan himself threw their full support behind Izetbegovic's second run for the Bosniak seat of Bosnia's Presidential Council, with the help of Turkish state institutions known to be very active in Bosnia and the Balkans in general. These institutions included Turkish International Development Agency (TİKA), Turkish state-owned Ziraat Bank, with its Bosnia branch, and Turkish state-owned media outlet Anadolu Agency, with its Balkans service based in Sarajevo.
For instance, the historic library of Bosnia's Presidential Building, which was burned during last year's mass protests in Sarajevo, was restored by TİKA and (re)inaugurated by Izetbegovic himself. Also, just before the Bosnian general elections of 2014, the Bosnia branch of Turkey's state-owned Ziraat Bank granted the state of Bosnia with a loan of $50 million and, sure enough, Izetbegovic was there to receive the new line of credit with all the pomp and circumstance that can be expected to accompany such a lofty transaction. Moreover, the Balkans service of Turkey's state-owned Anadolu Agency offered its full support to Izetbegovic during his presidential campaign.
Various opponents, academics and researchers both in Turkey and Bosnia have strongly condemned what they see as a blatant display of favoritism developing between the AKP government and President Erdoğan and Izetbegovic. They claim that in Turkey, Izetbegovic has only Erdoğan and the AKP, and in Bosnia, the AKP and Erdoğan have only Izetbegovic. According to these critics, this display of full and clear mutual support is very risky for these two brother nations, for if one of the parties loses its power, Turkish-Bosnian relations could greatly suffer.
Ultimately, the reasons behind and possible consequences of the appointment of an important Turkish businessman as Izetbegovic's senior advisor deserve greater attention. While his investments in Bosnia, success in the business world and personal determination may have helped him attain this post, Çilek's assumption of the position must also be read as a significant success story of the risky foreign policy pursued by Turkey in Bosnia and the Balkans under Erdoğan and Davutoğlu.