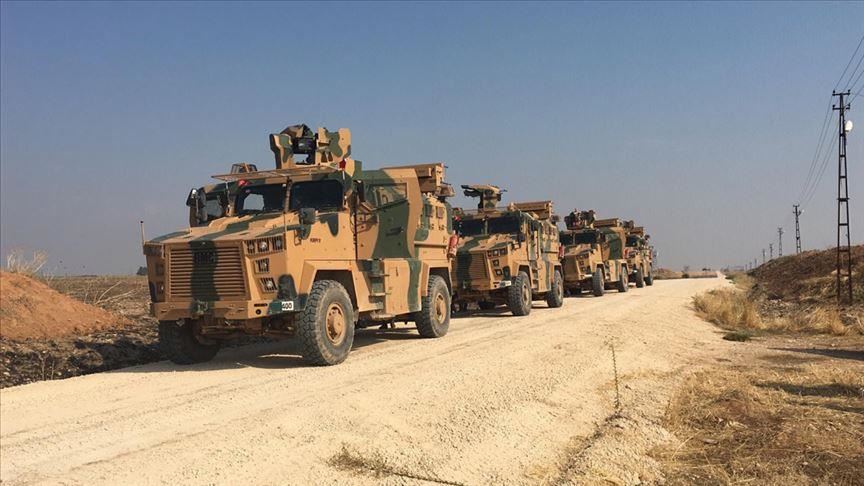 Russian and Turkish troops conducted their first joint patrol today in northern Syria as part of a plan to establish a safe zone east of Euphrates, the Turkish Ministry of Defense stated.
The joint patrol between Turkey and Russia took place in northern Syria 40 kilometers east of Ras al-Ayn and 30 kilometers west of the city of Qamishli, according to the Turkish ministry.
The patrol, which lasted four hours, was supported by an unmanned aircraft and eight armored vehicles.
Following the patrol, the Turkish troops returned to the Turkey-Syria border line.
It was in the cities of Ras al-Ayn and Tell Abyad that "Operation Peace Spring" military activities took place, which began on October 9th in order for a safe zone from the YPG/PKK groups to be created.
Turkish Foreign Minister Mevlut Cavusoglu had announced the joint patrol
Turkey and Russia will clear an area 30km south of Turkey's border with Syria from YPG/PKK terrorist groups, and the two countries' security forces will conduct a joint patrol, the Turkish Foreign Minister had said earlier on Friday.
Referring to the agreement between the two countries, Cavusoglu commented: "All YPG/PKK terrorists from Euphrates to the Iraqi border, at 30-kilometers radius, will be persecuted having started joint patrols there".
Terrorists in Qamishli will be removed, but no patrols will be carried out in the area, as Syrian forces have been there since the beginning [of the crisis], the Turkish Foreign Minister stated.
"The YPG/PKK terrorists will be removed from Manbij and Tal Rifat. Therefore, we got what we wanted through the two agreements, with minimal losses.
He went on to add that "This wouldn't have happened had we not conducted this operation". /ibna