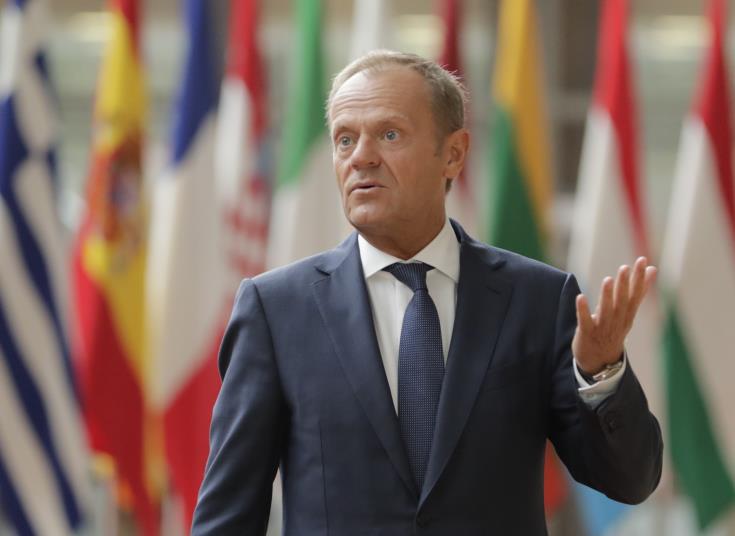 He visits Cyprus on the basis of completing his term of office
By Michalis Michael
The President of the Republic of Cyprus, Nicos Anastasiades, will have a meeting with President of the European Council Donald Tusk at 10.30 today, focusing on the Turkish actions in Cyprus' EEZ. Yesterday, when President Anastasiades was asked what would Nicosia seek to secure from the European Council to be held in Brussels on October 17-18, he said he would pursue those decided by the European Council last June "and which were reiterated in the same manner at the meeting of the Foreign Ministers on 15 July".
In addition, as stated by the government spokesman Prodromos Prodromou, in the course of the meeting with Mr. Tusk, President Anastasiades will again bring to light the issues concerning the illegal activity of Turkey. As Mr Prodromou recalled, Mr Tusk has outlined the issue of Turkish activities at the next European Council meeting in Brussels.
Asked if this is the reason for Mr Tusk's visit to Cyprus, he said that the European official, as outgoing President of the Council, is visiting Cyprus on the basis of completing his term. On the occasion, however, as Mr Prodromou said, the issues that have been put forward for discussion at the European Council will also be discussed.
Mr Tusk, with a post on a social networking site, sent the message last Monday that he was in constant contact with President Anastasiades on the issue of Turkey's illegal activities in the Cypriot EEZ and that 'continued illegal drilling activities' undermine good neighborly relations between the EU and Turkey".
President Tusk also recalled that the EU stands by the side of Cyprus./ibna