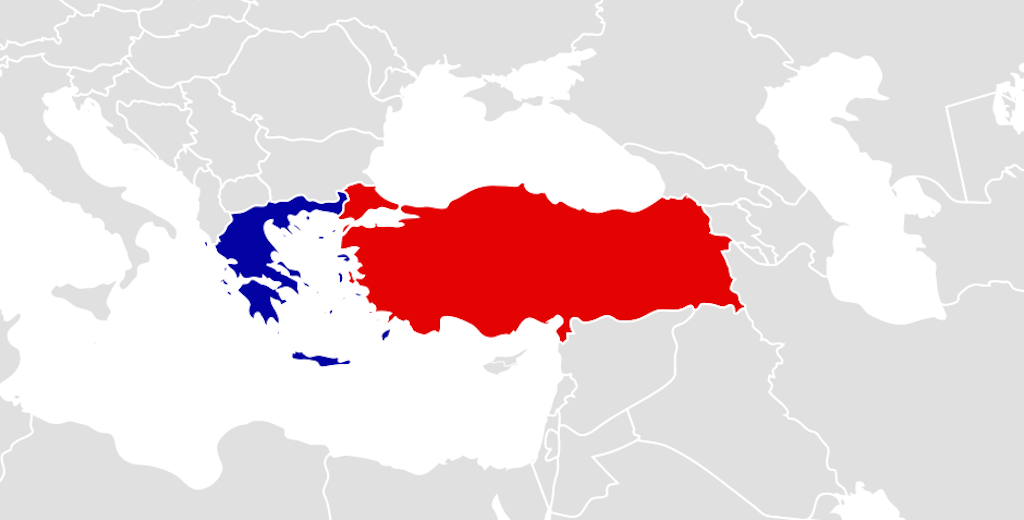 Quite unexpectedly, Turkey spoke of Turkish commandos, on Monday who took down the Greek flag from the Aegean islet named "Anthropofas".
On Monday, the Turkish Prime Minister Binali Yildirim referred to Greece while addressing a panel regarding the presidential system in the country.
"As you know, sometimes our neighboring country, Greece is doing things that increase the tension in the Aegean Sea. Indeed, lately our attention is drawn to the fact that these violations have increased. There are rocky islands that is not clear what country they belong to.
We see that initiatives similar to those regarding Kardak are taking place. We see that there was an initiative to set up a Greek flag on the island of Anthropofas. Coastguard forces have made an appropriate intervention and took it down", Yildirim stated.
The Turkish prime minister, after revealing to Turkish reporters the Turkish view of what happened in the Aegean, said that our advice to Greece is to stay away from challenges that increase tension and act based on rules of good neighbourly behaviour. Do not think that we will move away from the sovereign rights of our country. We are determined to respond accordingly to these de facto actions that might be taken."
An hour after Yildirim's statements, Mevlut Cacusoglu, in the presence of NATO Secretary-General Jens Stoltenberg, who was on an official visit to Ankara spoke of the removal of the Greek flag and claimed that many islets and rocky islets in the Aegean are Turkish.
The Turkish minister, after arguing that the Greek vessel had attempted to ram a Turkish one, a fact contradicted by published images, stressed that "this summer Greece has caused tension in Kardak. We took action and a boat came and hit our own boat. We repeat it on every occasion. Do not take dangerous steps, there might be an accident or an accident that our army will not be able to control, we say it every time. Unfortunately, there is a Defence minister that some say is a good guy, other that he is a spoiled one. I say this by invoking the Greeks. He loves populism, and you know he is a leader of the far-right party", he said, and accused Panos Kammenos directly.
Stoltenberg did not comment so, Cavusoglu went on: "His spoiled behaviour should not go reach the point of damaging the two countries' relations. Last night, I think that three people took such an initiative (raising the Greek flag on an islet), the commandos went back and took it down. No problem, we can go again and remove it once more but why are such incidents needed?
The opposite side (Greece) should avoid this kind of steps and stop taking out of the blue steps that will increase the tension. When they do take them, they are answered to. So, this populism does not benefit Greece. We, as two allied countries of NATO, need to focus on the positive agenda. We must choose to reinforce our bilateral programmes."
What Greece perceived as provocative was Yildirim's statement that "There are rocky islands and islets that has not been clarified whom their sovereignty belongs to. Greece says they are ours, we as Turkey say no, they are ours. We can resolve these problems without any tension whatsoever.
In Turkey, it is certain that a flag has been removed from the Aegean islet that was mentioned by Binali Yildirim under its Greek name (Anthropofas). Initially, the Turkish media got confused and reported that it was the rocky island of Hursit later referred to as Kerdo.
The Turkish claims have four main axes: the questioning of Greek sovereignty over the islands, the questioning of the maritime borders, the questioning of Greek airspace, and the denial of Greece's right to extend its territorial sea to 12 nautical miles, that could provoke war (casus belli).
The case of the 'Little Anthropofas' (islet) belongs to the first pillar, the policy of "gray zones", based on the Turkish argument that the ownership of islands, islets and rocky islets that are not mentioned in the international treaties under their names is unclear. Turkish diplomacy even accuses Greece of unilaterally seeking to bring about fait accompli regarding the sovereignty of the islands, in an attempt to turn the Aegean into a "Greek lake".
The Greek side replies that the Treaties of Lausanne in 1923 and of Paris in 1947 fully and definitively guarantee the dominance of the islands of the Aegean and its geographical formations.    
At the same time, the Treaty of Lausanne predicts that Turkey refuses the sovereignty of all the islands of the Aegean, except Kardak and Bozcaada, that in a distance longer than three miles from its shores.
Athens has consistently rejected every attempt to reinterpret the international treaties, and especially Ankara's claim that dominance over unnamed formations in the Treaties is questionable.
According to Greece, the only issue in limbo between Athens and Ankara is the delineation of the continental shelf…. / IBNA