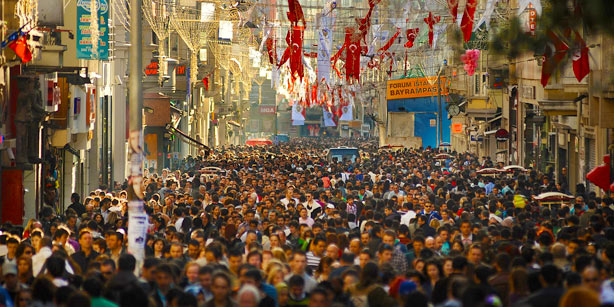 Ankara, January 29, 2016/Independent Balkan News Agency
By Manolis Kostidis
The mean age of the population is just 31 years
The population in Turkey in 2015 has reached 78.7 million people, having increased by one million people in just one year.
These figures do not include the three million Syrian refugees who arrived in the country.
What's even more impressive is the average age of the population that appears to be just 31 years.
The ages 0-14 are 24% of the population and reach 18.8 million.
The population over 65 comprises only 8.2% of the population, i.e. 6.5 million. The potential of the country's workforce, that is the ages 15-64 make up 67.8% of the population and exceed 53.3 million people.
Population-wise the country's largest city is İstanbul, with a population of more than 14.6 million people. Ankara has a population of 5.2 million and İzmir 4.1 million, followed by Vursa with 2.8 million and Antalya me 2.2 million. The smallest city in Turkey is Bayburt with a population of just 78,500 people.