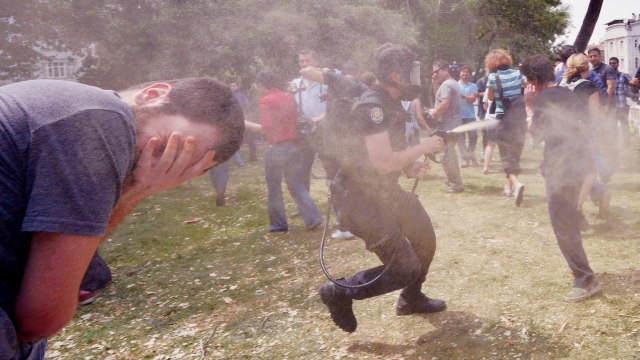 By Manolis Kostidis – Istanbul
Thousands of Protestors Gather Daily
Ten People Injured as Turkish Police break up Istanbul protest
At least ten people were injured after Turkish police violently broke up a protest rally by thousands of citizens who have camped out at the Geza Park, Istanbul in protest of the municipality's development plans.
Police officers used tear gas to disperse the crowd. Riot police burned down the tents set up by protestors in the park.
There were more crashes on Friday afternoon. Amongst protestors were several opposition MP's, artists and actors. Crowds increase by the day. An MP of the pro-Kurdish, Peace & Democracy Party stood in front of bulldozers to prevent them from tearing down trees.
Turkey's "indignant citizens" have taken the streets to protest for five consecutive days at the same site. They want to denounce the Erdogan government's plans for Istanbul's Taksim Square which entails cutting down hundreds of trees in the park in order for a shopping center to be built that would resemble an old Ottoman military camp that used to be located there. Thousands of protestors call for the park, one of the city's few green areas, to be maintained.
According to the Turkish press, Recep Tayyip Erdogam sparked the huge protests when on the 29th of May he stated: "whatever you do we will go ahead with the plan". The opposition accuses Erdogan of "autocratic behavior".
"The people resist" was the headline of Turkish daily Cumhuriyet while the headline of left-wing Sol read "Tayip plays Nero", likening the Prime Minister with the Roman Emperor "because police are burning down protestor tents so he can shape the city as he likes".