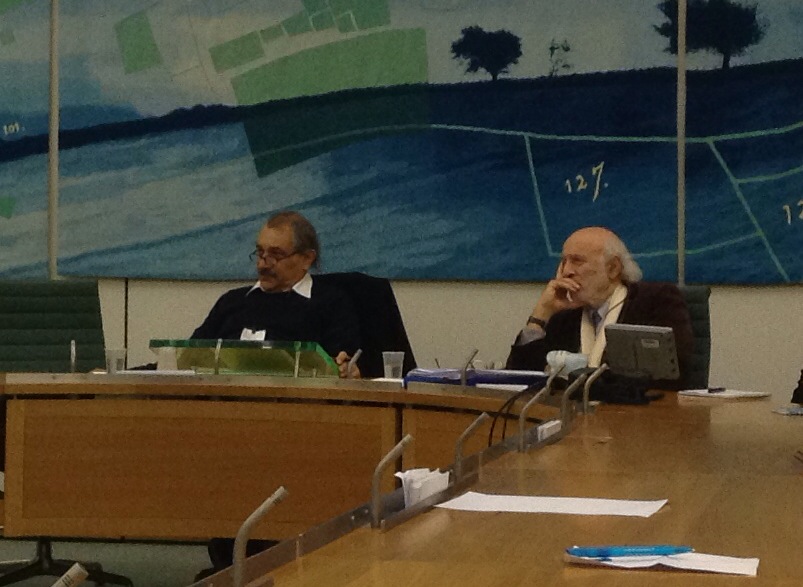 By Thanasis Gavos – London
While one can easily point to the use of the Akrotiri base by the British forces for their Tornado fighter jets sorties over Iraq as a direct link between Cyprus and ISIS, a more subtle connection may prove a determining factor in the future of the island.
Speaking at an event organised in London by the Association of Cypriot, Greek and Turkish Affairs, the founder of 'Friends of Cyprus' Costa Carras (photo on the right) explained how Turkey's "sympathetic" behaviour towards the Islamic State's extremists is a factor that could potentially facilitate a single state solution to the Cyprus problem.
Mr Carras pointed, inter alia, to a recent report by the Columbia University alleging President Erdogan and the Turkish government are more or less complicit in the free ranging ISIS activities – one of the main reasons for this Turkish stance being the strength of hostility against Bashar al-Assad in Syria.
Mr Carras commented that this is a controversial policy within Turkey itself. And citing his strong impression ("not any scientific poll," as he stressed) he said that unlike the Turkish administration, Turkish Cypriots -Kemalists in their majority- do not like ISIS.
He went as far as to say that one can identify a "fear" in the Turkish Cypriot public sphere regarding the direction Turkey is taking with regard to the Islamic State. Therefore, it is possible that the "election" in the occupied north in April could return a result denouncing Erdogan's policies, both on ISIS and also on Cyprus.
As Mr Carras noted, the Turkish Cypriots will have to decide whether they want a two-state solution like the one Erdogan's and Davutoglu's statements show Turkey pursues, or a solution that will benefit not only them but Turkey as well: a single state solution which will secure their representation in the EU.
For the two communities in Cyprus to come together for a common goal, like the single state solution, there needs to be a common interest: "This has now appeared in the form of not wanting Cyprus to be part of a violent region, which is going downhill very quickly," concluded Mr Carras.
Costa Carras is a founding member of the Friends of Cyprus and a founding member of the Centre for Democracy and Reconciliation in Southeast Europe. He is the longest serving Vice President of Europa Nostra, the federation of European heritage organisations. And since 1998, Mr Carras has been one of the coordinators of the Greek Turkish Forum (GTF).
He was in Cyprus in October 2014 for a meeting of the GTF when he had the chance to assess the impact of recent events in the Middle East on developments on Cyprus and the way the outcome of elections in Cyprus, Greece and Turkey in 2015 might affect a settlement.