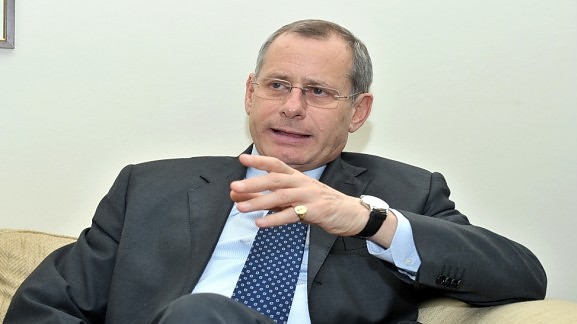 Nicosia, March 1, 2016/Independent Balkan News Agency
However much good will the two communities in Cyprus show, Turkey`s active contribution for a viable and lasting solution is indispensable, said Ambassador Alexandros Zenon (photo), Cyprus` Foreign Ministry Permanent Secretary.
He reminded that Ankara maintains more than 40,000 troops on the northern, Turkish-occupied part of the island.
Zenon, who was addressing on Tuesday the high-level Segment of the Human Rights Council, in Geneva, referred to the organization's annual report, which, he said, highlights human rights violations in Cyprus, as a result of the Turkish invasion that is still taking place to date.
He also called on Council members to back a statement on the impact of the destruction of cultural heritage on cultural rights.
Speaking on ongoing settlement talks in Cyprus, Zenon said that there has been significant progress on a number of issues, which is "reason for cautious optimism".
"It should be stressed, however, that a lot of ground remains to be covered on some of the most difficult and sensitive aspects of the problem" he added, while noting that Cyprus` President Nicos Anastasiades "remains fully committed and determined to continue working closely and sincerely with the Turkish Cypriot leader, in order to reach a settlement".
On Turkey`s human rights violations in Cyprus, the senior diplomat said it was regrettable that, despite European Court of Human Rights judgments that find Turkey guilty of continuous violations in Cyprus, the government in Ankara has so far failed to implement the Court's decisions.
Zenon also referred to the Statement which Cyprus is presenting, as part of a cross-regional core group of countries, aiming to draw the Council's attention to the worrying rise of cultural heritage destruction during or in the aftermath of armed conflicts. He called upon members and observers of the Council to support it, reaffirming thus the importance of cultural heritage.
Zenon finally referred to the crisis in Syria, noting that the Cypriot government supports the efforts to establish a lasting ceasefire and an inclusive political dialogue.
He said that Nicosia urges all sides to seize every opportunity to achieve a solution as soon as possible, which in turn will terminate the plight of innocent people which are forced to leave their homes.
Cyprus has been divided since 1974 when Turkey invaded and occupied its northern third. UN-led talks, aiming to reunite the island under a federal roof, resumed last May.
Source: CNA