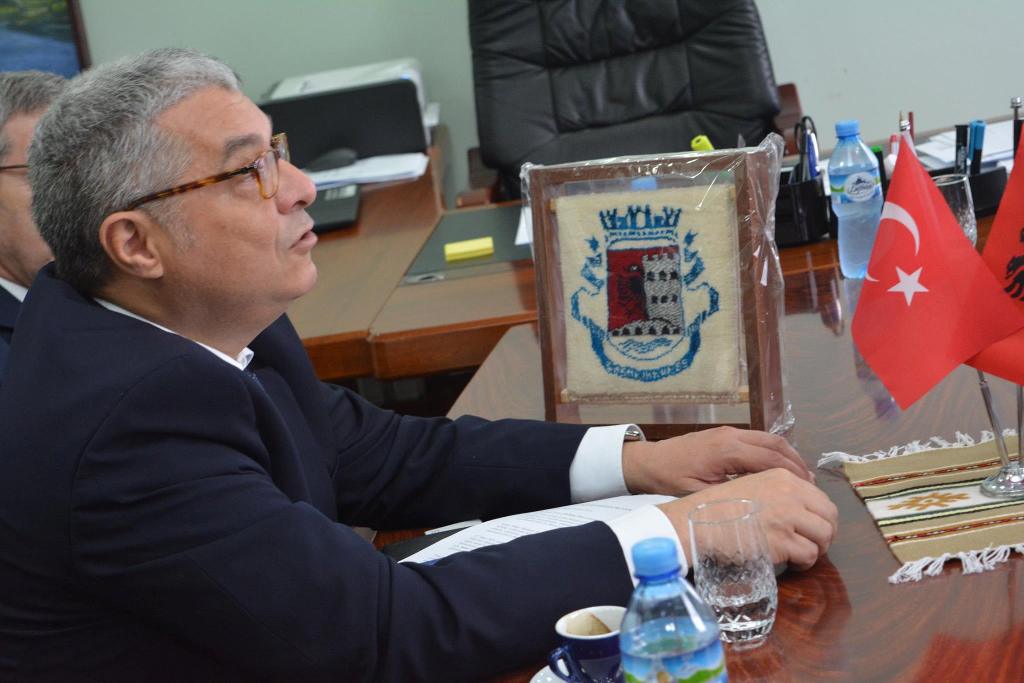 Turkish authorities have addressed to authorities in Tirana with the request of closing down 12 schools which are controlled by FETO and its leader, Fethulah Gulen.
This request comes at a time when Albania tops the list of Balkan countries where FETO and its leader Gulen are most organized.
Turkey's ambassador to Tirana, Hydayet Bayraktar says that his government has a double plan. "While on one hand we continue to request for these schools to be closed, on the other, Maarif Foundation in Albania has started to open true Turkish schools in Albania. This foundation has entered into positive cooperation with the Albanian Ministry of Education. Our principle in education is quality and we will engage all our potential here".
Ambassador Bayraktar considers the fact that the 12 schools which he considers to belong to FETO, removed the Turkish flag from, a victory. "This terrorist organization continues to use the symbols and the flag of our country, which it has betrayed and tried to eliminate. We put a stop to this when the Ministry of Education of Albania prohibited the use of our flag and symbols", Mr. Bayraktar confirms the removal of the Turkish flag from "FETO's schools".
The Turkish ambassador to Tirana says that FETO has expanded in Albania, adding that this organization has managed to misinform Albanians on Turkey and its leaders.
In reality, Albania has a climate of distrust toward the Turkish president, Recep Tayip Erdogan. Many media, which are close to Gullen's educational institutions and media businesses in Albania, issue information and comments that criticized Erdogan and praise Gullen.
The Turkish ambassador says that his country is following the situation and adds: "We are following these cells and we will not give up until we remove  the last remaining member of FETO from Albania".
Meanwhile, Ankara requests Albanian government to take measures against FETO.
Mr. Bayraktar says that meetings have been held with Albanian senior officials by making it clear that FETO's cells in Albania must be removed, as according to Ankara, they are an open threat for Albania.
At this point, the ambassador assures that if a terrorist organization that damages Albania would be present in Turkey, then it would be eliminated: "If our country had a terrorist structure which posed a threat to Albania, we would not hesitate at all in front of it".
Since 1992, when Albania opened to foreign entrepreneurs, a large number of Turkish colleges was opened. They were mainly kindergartens and elementary schools. Through the years, they expanded by becoming high schools and universities. The Turks took advantage of the fact that education was mainly public and private schools had just started to emerge. So, a new class of Albanian society, able to afford this service in the public sector, was born.
Amidst this situation, the Turks promoted Turkish colleges by creating a positive opinion on them.
Currently there are 12 schools which are considered to belong to FETO, two universities and ten elementary and high schools.
Ambassador Bayraktar says that these schools are under the control FETO's leader for the Balkan and Turkey, Gullen's nephew.
The Turkish ambassador believes that the Balkans and Albania have turned into a geographical location where FETO has been very careful and has acted freely, adding that those who control those schools "have good relations with influential people in the country".
He also mentioned the fact that "the children of many Albanian politicians, state officials and influential people have studied and some of them have enrolled their children in these schools".
***
The scheme applied by schools controlled by Gullen in Turkey is a very wise one, although it spans out in time. Those who are part of these schools become part of the "Gullen" stream. They complete every school level in these institutions and then they are spread in public and private institutions all over Turkey.
The same thing is also being attempted in Albania. "By keeping good relations with influential people in the country and by hiding their true face, they continue to settle in Albania and brainwash students. They keep these students under control and recruit them after they make them feel as if they have a spiritual debt toward them. But we cannot say that they apply the same method that they apply in Turkey", the Turkish ambassador says.
Meanwhile, he also launches another alert: "By pretending to lead an educational role, the terrorist organization continues its activities and prepares plots for people it doesn't like".
In fact, this organization doesn't only have schools. "The organization has two publishing houses which translate into Albanian the books of the leader of the organization. It has chambers of commerce, commercial structures, internet pages, social media accounts that uphold the traitor leader and they also have civil society organizations and religious institutions", the Turkish ambassador says. According to him, "this organization has its experts specializing in plots, fraud, exploitation of trust and concealment of objectives".
"Even in Albania they apply the method in which they excel. If you ask them, they will answer that none of them is related to FETO, that they are entirely innocent and they say that they known nothing else but education".
The Turkish ambassador assures that "we are chasing these cells" and adds: "We will chase them until we remove the last remaining member of FETO from Albania. We will continue to demand the removal of these elements from the Albanian territories, because they are a threat to our country and we believe that they are a threat to Albania and Albanian families too".  /balkaneu.com/